Katia Dmitrieva and Reade Pickert, Bloomberg
338 Times
219 People
Industries such as tech, finance, and real estate are poised to see the biggest layoffs in a downturn.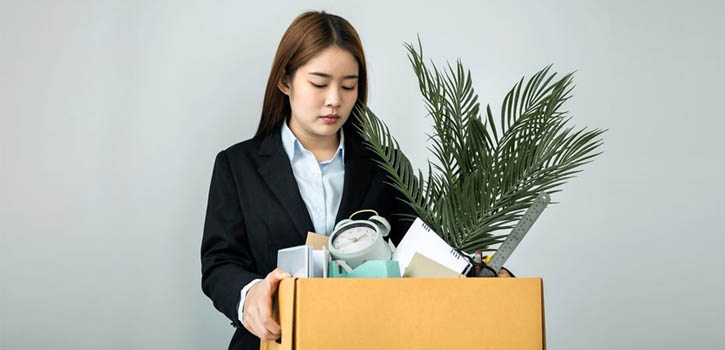 Photo: Getty Images
Ever since the mass layoffs early in the pandemic, US businesses have been adding workers at a rapid clip. Now they're slowing down, pulling job listings, and scaling back hiring plans as the Federal Reserve aggressively raises interest rates to fight inflation.
That's darkening the outlook across the economy—but it's especially problematic for white-collar industries including business services, tech, banking, and real estate, where staffing numbers are far above pre-Covid levels. Layoffs have already begun, with Netflix, real estate broker Re/Max Holdings, and social media platform Snap all announcing staff reductions.
"The sectors that are probably most vulnerable are the ones that hired the fastest," says William Lee, chief economist at the Milken Institute, pointing particularly to white-collar industries. Companies "grabbed as many people as they could because they thought demand was just so strong," he says—and they miscalculated how long the surge would last.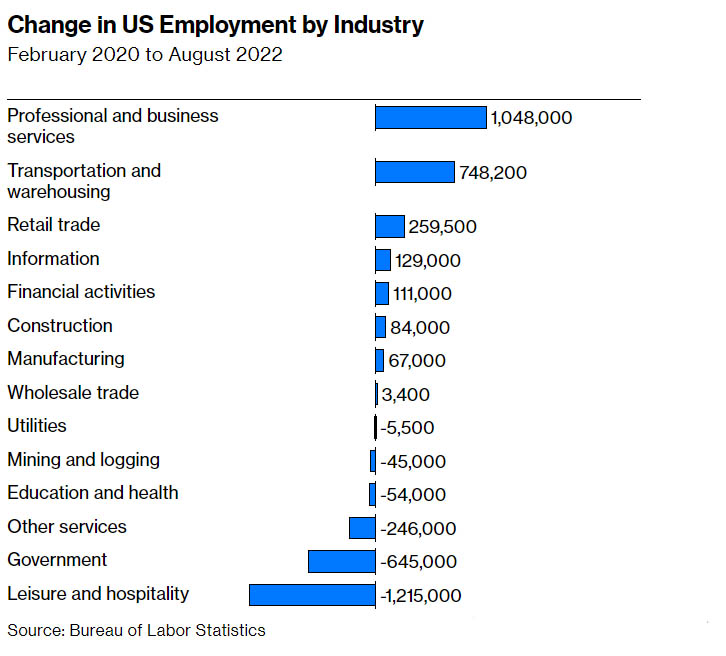 That outcome would be the polar opposite of what occurred during the pandemic slump, when it was lower-wage workers—especially in service industries such as retail, restaurants, and hotels—who bore the brunt of layoffs. It's a prospect more reminiscent of the recession in the early 1990s, when white-collar workers were at greater risk of ending up on the unemployment line than in the past.
Of course, the US may escape a downturn altogether. While one government measure of activity showed the economy shrank in the first half of 2022, another pointed to continued growth. Employers added 315,000 jobs in August, and openings have rebounded to near record highs, not what one would expect from an economy that's running out of steam.
But about two-thirds of employers see a recession coming, according to a survey by Principal Financial Group. The rate of people quitting jobs, typically a sign of confidence they can find another one, has hit its lowest level in more than a year. The growth of new postings has slowed over the past six months, most markedly for remote work that's more likely to be white collar, according to the job listings website Indeed.
More broadly, companies are lowering their projected staff costs for next year, eliminating job postings in areas such as accounting and customer support, and aiming to hire fewer people or space out hiring over a longer time, says Dave Gilbertson, vice president of staffing firm UKG. "There are all these sectors out there that are heading into what could be a recession," he says. "They're hedging their bets a little bit in the amount of hiring that they're going to do."
Many white-collar employers went well beyond filling staffing gaps that resulted from Covid-19. That's why the US workforce—though it's back in the aggregate to its pre-pandemic size—now has a very different composition. Leisure and hospitality, for example, employ about 1.2 million fewer people than in February 2020. But jobs in professional and business services are up by more than 1 million.
In some of the latter areas, employers are switching to temporary staff, and those positions are typically the first to go in a downturn, says Stephanie Miller, director of talent acquisition and retention at Express Employment Professionals. She's noticed an uptick in listings for 30- to 90-day contracts, while posts for permanent jobs have leveled off.
That's where companies have room to "let go the people that aren't doing as well, so they're saving money and preparing for this recession," says Miller.
Payrolls in professional and business services declined by about 14,000 from July to August, the first monthly drop since 2020, according to data produced by ADP Research Institute in collaboration with the Stanford Digital Economy Lab. The numbers were also down in financial services and information.
"I think the question is: Have you overhired in certain industries?" says Michael Gapen, head of US economics at Bank of America Corp. "And the data would say, if you did, it probably is in areas like professional and business services, more than leisure and hospitality."
He acknowledges that there's a big caveat. The economy has behaved in unexpected ways in the past few years. After companies shed millions of jobs during lockdowns, they struggled to refill positions fast enough to meet demand during reopening.
"Of course, we don't know," Gapen says. "We've never done this before."

Originally Published On: https://www.bloomberg.com/news/articles/2022-09-13/tech-layoffs-2022-portend-white-collar-recession
Comments:(0)