Ashton Jackson, CNBC
240 Times
187 People
Despite recent mass tech layoffs, STEM careers have remained in high demand — and some cities are better than others for professionals in the field.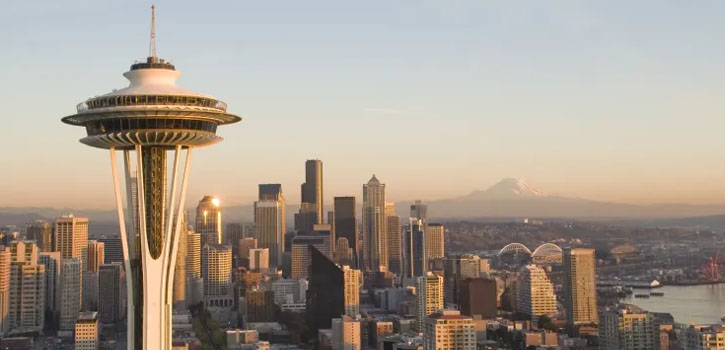 Redfin's 2022 report ranked Seattle, Washington as the city where the housing market is cooling off the fastest.Joel Rogers | Corbis Documentary | Getty Images
According to recent BLS data, science, technology, engineering, and math occupations are projected to grow 10.8% between 2021 and 2031, compared to just 4.9% for all other careers. STEM professionals also boast big paydays, a perk that attracts many students to pursue the field, with a median annual wage of $95,420.
A new WalletHub study analyzed the 100 most populated U.S. metro areas across three key dimensions, "Professional Opportunities", "STEM-Friendliness" and "Quality of Life." They then compared these dimensions using 21 metrics including job openings for STEM graduates, STEM employment growth, quality of engineering universities, and housing affordability.
Based on the findings, these are the top 10 best cities for careers in STEM:
1. Seattle, WA
Total Score: 70.82
Professional opportunities ranking: 1
Quality of life ranking: 22
2. Austin, TX
Total Score: 67.33
Professional opportunities ranking: 2
Quality of life ranking: 10
3. Boston, MA
Total Score: 64.73
Professional opportunities ranking: 10
Quality of life ranking: 67
4. Atlanta, GA
Total Score: 64.62
Professional opportunities ranking: 9
Quality of life ranking: 13
5. San Francisco, CA
Total Score: 64.14
Professional opportunities ranking: 6
Quality of life ranking: 56
6. San Jose, CA
Total Score: 62.83
Professional opportunities ranking: 5
Quality of life ranking: 39
7. Pittsburgh, PA
Total Score: 62.42
Professional opportunities ranking: 21
Quality of life ranking: 12
8. Minneapolis, MN
Total Score: 61.42
Professional opportunities ranking: 8
Quality of life ranking: 18
9. Madison, WI
Total Score: 61.06
Professional opportunities ranking: 17
Quality of life ranking: 14
10. Sacramento, CA
Total Score: 60.16
Professional opportunities ranking: 38
Quality of life ranking: 32
According to Jill Gonzalez, a WalletHub analyst, most of these cities have consistently remained the best places for STEM careers for almost a decade.
"We've been publishing this report every year since 2015, monitoring the STEM labor market closely. The results have not shifted too much, which might be surprising in and of itself," Gonzalez tells CNBC Make It. "We were still expecting cities like Seattle and Boston to be among the highest ranked due to the large number of professional opportunities and their overall STEM-friendliness"
Seattle has been among the top three cities every year since 2016, and Boston since 2018.
For professionals in STEM who don't reside in these metro cities, don't fret. Gonzalez says one of the biggest benefits of working in this field is the opportunity to work remotely.
"Aside from paying more, STEM jobs are more likely to offer work-from-home or remote work possibilities. Being able to work from anywhere is a very powerful incentive nowadays," she explains. "STEM fields are also among the fastest growing, which means there are plenty of career growth and development opportunities. Other benefits include flexibility and the opportunity to make an impact on society which leads to a higher degree of job satisfaction."
And though loud layoffs have become a cause for concern for many STEM workers, Gonzalez reassures that they only make up a fraction of an otherwise thriving industry.
"The STEM field will maintain its desirability. The recent layoffs have only affected a small part of the total labor force and the STEM field encompasses more areas than just tech. STEM workers are still in fierce demand throughout the country."
Out of the 25 fastest-growing job titles in the U.S., 14 are science, technology, engineering, or mathematics related.

Originally Published On: https://www.cnbc.com/2023/02/03/the-top-10-best-us-cities-for-stem-careers-according-to-wallethub.html
Comments:(0)