ITJobCafe
684 Times
515 People
Looking to boost your career prospects this year? These are the best IT certifications you may want to consider getting today.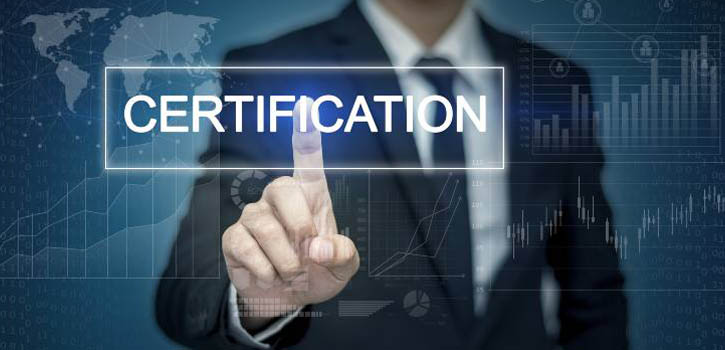 Obtaining IT certifications is always worth it when you're looking to boost your career prospects and increase your chances of moving up in the world, but which are the best IT certifications to get this year?
We've put together our top IT certifications, and how to get them, so you'll know just what to do. Interested? Keep reading to find out more.
Google Certified Professional Cloud Architect
For the highest salaries in IT, it's difficult to look past the GCP Cloud Architect certification. Although it's only been out since 2017, it has fast become vital as evidence of cloud skills.
More and more firms are utilizing the cloud, so the need for people with this certification is constantly increasing. The GCP Cloud Architect certification offers proof that you can design, develop, and manage a cloud architecture — a desirable quality in any employee.
Project Management Professional
Offered by the Project Management Institute, the PMP is particularly useful if you're looking to improve your skills as a project manager, with the ability to define, plan, and manage complex projects and teams.
To become PMP certified, you'll need experience in project management as well as passing the PMP exam, so 35 hours of training, and at least 4,500 hours of project management experience.
Certified Information Security Manager
If you're after certification in cybersecurity, ISACA's CISM is your best bet. Crucial if you want to get into security management, this certification will prove that you've got the skills to design, assess and manage the information security of a company.
You'll have to pass an exam which consists of four sections, to prove that you have the skills required:
Information Security Governance
Information Risk Management
Information Security Program Development and Management
Information Security Incident Management
Certified in Risk and Information Systems Control
Another one of the best certifications to get when concerned with technology and security, the CRISC shows that you're able to identify and evaluate threats to your business.
It can often be difficult for IT professionals to carry out a risk analysis of the detail required, so it's ideal for companies to have somebody who's CRISC-certified on the team. The four parts to the CRISC exam are as follows:
IT Risk Identification
IT Risk Assessment
Risk Response and Mitigation
Risk Control, Monitoring and Reporting
AWS Certified Solutions Architect - Associate
Just like the Google certification mentioned above, this is a great certification if you're a cloud architect. It's one of the most popular and well-regarded IT certifications. It also offers proof that you can design and deploy scalable systems on Amazon Web Services.
The AWS Certified Solutions Architect - Associate (SAA-C01) exam needs to be passed. Likewise, you should have the AWS Certified Cloud Practitioner certification, and have a year of practical experience with AWS too.
Getting IT Certifications
These are just five of the top IT certifications available in 2020, but this isn't a definitive list. There are plenty of other certifications out there to help boost your career prospects, so give them a go today!
Looking for more advice on your career in IT? Check out our other posts — we're sure to have what you're looking for.
Comments:(0)