John Mark Ivey
1383 Times
799 People
The lack of skilled IT workers is hurting the deployment of emerging technology, according to a new survey from Gartner. In areas from cloud to cybersecurity, this crisis is expected to last for years to come.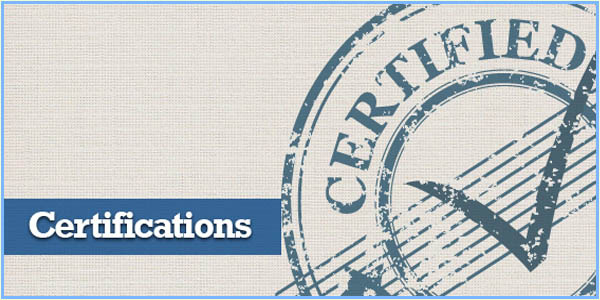 "Why do I need IT and business certifications if I already know how to do my job?" Well, it's no secret that most employers use certifications to differentiate between job seekers that are otherwise equally qualified. It's about remaining competitive in the marketplace. IT certifications in particular are highly valued by employers seeking IT professionals. Some companies and organizations require job seekers to hold particular certifications to even apply for certain positions.
But student beware. All certifications are not created equal and certainly offer different rewards to those who hold them. And, while some professional certifications may result in a more lucrative career path, as well as a higher salary, seeking a certification can be a huge commitment of time and resources. So before you start your certification journey, take a long, hard look at what you want to accomplish with a particular certification and how much effort it will take you to achieve it. To help you chart your path, here are the top IT and business certifications that I've determined are worth the effort.
1. Project Management Professional (PMP®)
To quote Theodore Roosevelt, "Nothing in the world is worth having or worth doing unless it means effort, pain, difficulty." If you are considering pursuing PMP certification, prepare yourself most definitely for quite a bit of effort, probably some pain depending on your project management skills, and some difficulty. To be blunt, achieving PMP certification isn't easy.
Established by the Project Management Institute (PMI®) in 1984, the PMP has become one of the most valued and respected certifications in the business world. If you think you are up to the task, PMI has a few requirements you must meet before you can even apply for PMP certification. Applicants with a four-year degree must have at least three years of project management experience, including 4,500 hours leading projects, and 35 hours of project management education. Applicants without a four-year degree must have at least five years of project management experience, including 7,500 hours leading projects, and 35 hours of project management education.
All that effort appears to be rewarded beyond the experience and self-respect gained from having completed such a challenging task. PMP consistently ranks as one of the highest paying certifications in Global Knowledge's annual IT Skills and Salary Report.
2. Registered Health Information Administrator (RHIA®)
RHIA certification is awarded by the American Health Information Management Association (AHIMA). At a time when securely handling personal information, especially medical information, is so essential to all organizations, this certification is becoming more popular and more valuable. Health professionals working with patients, healthcare providers, and insurance and pharmaceutical companies will find that the RHIA certification is a must-have if you want to manage patient health information, including medical records, computer information systems and patient personal data. Plus, the RHIA ensures that certified professionals are well aware of the ethical requirements and legal standards related to delivering healthcare services, as well as the importance of patient information privacy (e.g., rules like HIPAA). Career opportunities for RHIAs exist far beyond the healthcare industry. Over the years, the scope of the certification has reached consulting firms, software vendors, state and federal government, and higher-learning institutions.
3. Certified Associate in Project Management (CAPM®)
PMI also offers CAPM certification. The CAPM is designed for those who have less project management experience than the PMP requires but who still can demonstrate an understanding of the project management fundamentals, focused primarily on the terminology and processes used to successfully manage a project. The requirements of the more entry-level CAPM are not as stringent as those for the PMP. CAPM candidates must have a secondary degree with at least 1,500 hours of project management experience or 23 hours of project management education. Like all worthwhile credentials, obtaining the CAPM requires much time and effort. But if you're looking for a stepping-stone certificate to the PMP and other IT certificates, CAPM may be a great path for you.
4. CompTIA A+
The long-time standard for entry-level IT helpdesk support and computer technicians, CompTIA's A+ certification may be best known for its vendor neutrality. As opposed to certifications focused on vendor-specific technology from the likes of Cisco, Microsoft and Apple, the skills that CompTIA A+-certified professionals develop aren't tied to a particular company or technology. This ensures that A+ certification holders are uniquely prepared for any environment, no matter the equipment used in their organization's IT system.
Until 2011, A+ certification never expired, which probably helps account for much of its popularity. Now CompTIA requires A+ certification holders to recertify every three years. But is the A+ certification worth the time and effort? More than one million A+-certified IT professionals since its inception in 1993 can't be wrong.
5. GRC Professional (GRCP™)
GRC, also known as corporate governance, risk management, internal control and compliance, probably isn't the most exciting-sounding career path, but believe it or not, there is an increasing need for GRC Professionals. When companies reach a certain size, they institute GRC activities to ensure efficient operation. GRCPs help their organizations operate more efficiently via corporate governance, enterprise risk management and compliance with related laws and industry regulations.
The two-hour GRCP exam consists of 100 multiple-choice questions. Once you pass the GRCP exam, you are certified for a year. To maintain your certification, you must pay an annual renewal fee and participate in continuing education.
6. Certified in Risk and Information Systems Control (CRISC)
CRISC certification is awarded by the nonprofit IT governance association Information Systems Audit and Control Association (ISACA®). If managing IT risks is your gift, then take a good look at this certification. There's a written exam, plus you're required to have at least three years of experience in three of five CRISC domains: risk identification, assessment and evaluation; risk response; risk monitoring; information systems (IS) control design and implementation; and IS control monitoring and maintenance. If CRISC certification seems like just any other certification, think again. Based on Global Knowledge's 2015 IT Skills and Salary Report, CRISC-certified respondents reported an average salary of $119,227. That was the highest of all certifications held by at least 100 survey respondents.
7. ITIL® Expert
Formerly known as the Information Technology Infrastructure Library, ITIL is a process framework that shifts IT from product development to a service provider model. Simply put, ITIL-certified professionals help their organizations better align their IT departments with the needs of the organization. An ITIL certification, especially ITIL Expert, demonstrates an advanced understanding of ITIL practices. It can also jump-start a stagnant IT career by sharpening your IT service management (ITSM) skills that are becoming more in demand by the business world.
Achieving ITIL Expert certification requires an ITIL Foundation certificate (v3 or newer), as well as 15 credits from the ITIL Intermediate level and five credits from Managing Across the Lifecycle (MALC). To qualify for ITIL Expert certification, the required credits must come from content modules that don't overlap. Once you've reached the level of ITIL Expert, you'll soon see that you have become more attractive to organizations seeking highly skilled ITSM professionals
8. Red Hat® Certified Engineer (RHCE®)
Another high-level and rigorous credential worth acquiring is Red Hat's RHCE. With a four-hour performance-based exam that measures actual competency on live systems, you'll be hard-pressed to find a more demanding testing environment. The RHCE provides proof that you are able to efficiently configure networking services and security on servers running Red Hat Enterprise Linux®. If you are responsible for supporting Linux as a primary server platform, the mid-level RHCE might be an ideal transitional credential for your career path between its prerequisite Red Hat Certified System Administrator (RHCSA) certification and the advanced Red Hat Certified Architect (RHCA) certification
9. Convergence Technology Professional (CTP)
Feature-rich and cost-effective unified communications (UC) solutions are all the rage, and it takes a highly skilled workforce that understands how essential integration of UC technologies can be to an organization. If you currently hold the Certified in Convergent Network Technologies (CCNT) certificate, the next logical step in your convergence career path should definitely include CTP certification to validate your voice, data and convergence skills. Like CompTIA's A+ certification, the CTP certificate program is vendor-neutral. You will gain the broad skill set required of professionals managing converged voice, video and data network solutions.
10. Cisco Certified Internetwork Expert (CCIE)
Considered one of the most respected and sought-after IT certifications for many years, Cisco's CCIE is the San Francisco-based networking company's highest-level credential available. With a two-hour written qualification exam in addition to an eight-hour hands-on, performance-based lab exam, many IT professionals will tell you that the CCIE is one of the most difficult certifications to achieve. Since its inception in 1993, tens of thousands of IT pros have earned Cisco's top-tier certificate. The CCIE started out as a single networking certification, but Cisco now offers several specialization tracks, including collaboration, data center, routing and switching, security, service provider and wireless.
11. VMware Certified Professional 6 - Data Center Virtualization (VCP6-DCV)
If you are using VMware's vSphere 6.0 virtualization platform, you are going to want to investigate obtaining VMware's VCP6-DCV certification. With vSphere, you can virtualize any application and transform your virtual data center into a scalable, on-demand infrastructure that can handle any cloud environment. With the VCP6-DCV certificate, you can confirm that you have the vSphere 6.0 skills needed to build a reliable, scalable virtualized data center. You'll improve your odds on the exam if you have experience with virtual machines, VMware's Virtual Machine File System (VMFS), vCenter Server and vRealize Operations Standard. Pass the 90-minute, 65-question exam, and you will be on your way to expertly deploying VMware vSphere environments.
12. Microsoft Certified Solutions Expert (MCSE): Private Cloud
At the turn of the century, if you wanted to validate your Windows system admin skills, Microsoft had two flagship certification routes: the highly sought-after and respected Microsoft Certified Systems Administrator (MCSA) and Microsoft Certified Systems Engineer (MCSE). Sensing a need for more refined skills as technology broadened at a feverish pace, Microsoft added MCSE technology specializations. Nowadays "MCSE" stands for Microsoft Certified Solutions Expert, with specializations in desktop infrastructure, server infrastructure, data platform, business intelligence, SharePoint, communication, messaging, enterprise devices and apps, and private cloud.
MCSE: Private Cloud certification is quickly becoming the standard for candidates using Microsoft private cloud computing technologies. Also, server administrators, systems programmers, and network managers looking to sharpen their skills and seeking careers with organizations using Microsoft private cloud environments see the MCSE: Private Cloud certification as a viable path. MCSEs can build Microsoft private cloud solutions to optimize IT service delivery and gain the automation and flexibility needed in their organization's IT infrastructure.
To obtain MCSE: Private Cloud, you must pass five exams. Current Microsoft Certified IT Professionals (MCITPs) only need to pass two exams. To maintain any MCSE certification, you must complete a recertification exam every three years to demonstrate your continued ability to perform in your chosen solution area, including the private cloud.
13. Certified Information Systems Security Professional (CISSP)
Created in 1994 by the nonprofit International Information Systems Security Certification Consortium, Inc. (ISC)2, CISSP certification consists of an exam based around eight domains:
Security and risk management
Asset security
Security engineering
Communications and network security
Identity and access management
Security assessment and testing
Security operations
Software development security
The rigorous six-hour exam contains a whopping 250 questions. Long considered the premier security certification, CISSP certification typically appears at the top of IT salary reports, including our own 2015 IT Skills and Salary Report. CISSP-certified respondents to our survey reported an average salary of $110,603. That was the third highest of all certifications held by at least 100 survey respondents, falling below CRISC and CISM certifications, respectively.
14. Certified Information Security Manager (CISM)
If you are an information security manager and have or are interested in gaining expertise on the relationship between information security and the broader goals and objectives of your organization, you should consider obtaining CISM certification. Like CRISC, CISM is awarded by ISACA, a nonprofit IT governance association.
The four-hour, 200-question CISM exam is based on four domains: information security governance, information risk management and compliance, information security program development and management, and information security incident management. Becoming a CISM demonstrates that you can expertly develop and manage an information security program.
To apply for the CISM, ISACA requires that you have at least five years of work experience in information security management. Luckily for you newbies, ISACA allows applicants to use some security-related certifications and information systems management experience to satisfy up to two years of the required five years of experience.
15. VMware Certified Professional 6 - Cloud Management and Automation (VCP6-CMA)
Any IT professional looking to make a move within the industry has to be eyeing the cloud. The increasing demand for cloud professionals won't let up anytime soon, and neither will the increasing demand for VMware's VCP6-CMA certification.
To earn the VCP6-CMA certification, you must pass two exams: vSphere 6 Foundations Exam (90 minutes, 65 questions), and VMware Certified Professional 6 - Cloud Management and Automation Exam (100 minutes, 85 questions). By gaining the skills to deploy and configure vRealize Automation into a vSphere virtualized data center and to manage services across a multivendor, multicloud infrastructure, achieving VCP6-CMA certification will certainly set you apart from your peers in cloud computing.
16. GIAC Certified Forensic Analyst (GCFA)
To say the GCFA certification process is rigorous might be an understatement, but few if any GCFA holders would say it doesn't pay dividends career-wise. Awarded via the Global Information Assurance Certification (GIAC), the GCFA is designed for professionals involved in advanced IT security and forensics, as well as incident response fields. Those candidates obtaining the GCFA certificate are well suited to investigate a wide range of complex digital forensic cases, including advanced persistent threats, anti-forensic techniques used by attackers, and internal and external data breaches.
17. Computer Hacking Forensic Investigator (CHFI)
CHFI certification is awarded by the member-supported professional organization International Council of Electronic Commerce Consultants (EC-Council). Though the organization is better known for its popular Certified Ethical Hacker (CEH) certification, EC-Council's CHFI certification has been gaining momentum in the IT security field in the past few years.
The four-hour 150-question CHFI exam requires a passing grade of 70 percent. Being CHFI-certified demonstrates that you have the skills to successfully detect attacks by hackers, to gather evidence required to prosecute hackers, and to prevent or minimize future threats. Designed to build computer forensics skills from a vendor-neutral perspective, the CHFI certification provides the level of IT security expertise required of positions within law enforcement, the military, the legal industry, financial institutions and any other organization concerned about the integrity of its network infrastructure.
18. Amazon Web Services (AWS) Certified Solutions Architect - Associate
Compared to some of the other decades-old certifications I mentioned, AWS Certified Solutions Architect - Associate certificate probably seems untested and unworthy. But with more and more companies choosing the AWS cloud platform, I predict this new cert on the block will be around for a good long time. While not a tried and true certification yet, mark my words, the AWS Certified Solutions Architect - Associate is a great upcoming credential to seek, especially if you want to work for some of the huge corporations choosing to go "all in" on the AWS cloud.
Comments:(0)