Jenna Arak, themuse (Sponsored by Squarespace)
1265 Times
944 People
The lack of skilled IT workers is hurting the deployment of emerging technology, according to a new survey from Gartner. In areas from cloud to cybersecurity, this crisis is expected to last for years to come.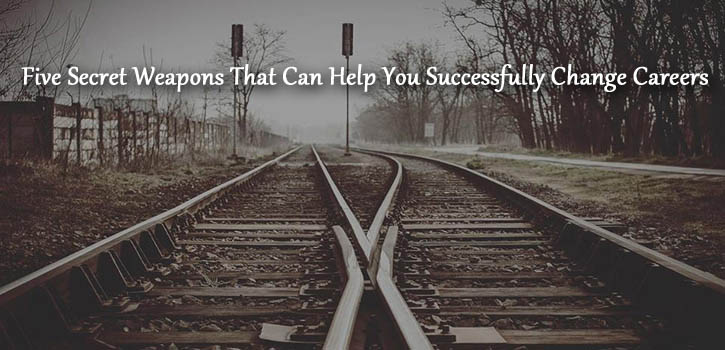 Though switching careers is encouraged now more than ever, you shouldn't turn in your two-week's notice and try something new without thought. Since changing careers, as with changing anything, inherently involves risk, it helps to have a few secret weapons up your sleeve to successfully ease you through the transition. We've gathered five of the best here, from upping your online presence game to giving yourself some financial leeway.
Utilizing even just one of these secret weapons will get you ahead of the game before you take the leap. But try all five and you may just guarantee a career switch success.
Secret Weapon #1: A Clear Vision
Begin with the end in mind is a common piece of advice—and with good reason! A clear vision of your end goal and how you plan to get there allows you to accurately anticipate what this move is going to take. Plus, seeing the shiny new career at the end of the tunnel will help you survive any bumps in the road along the way.
Start by getting really clear with yourself and asking the big questions:
What do you actually want?

Be as specific as possible! Try to go beyond "a career in advertising," for instance, and get clear on the type of environment you'd like to work in, the different projects you'd be excited to take on, and the way you'd like to feel around your manager and colleagues.

Why do you want it?

Simon Sinek's advice to "start with why" extends to more than just entrepreneurs. It's solid advice for anyone who is looking to make a big change. Get clear on why it is you want to switch careers—if you're just burnt out at your current job, perhaps, maybe it's not a whole new career that you need, but simply a new role (or some time off!).
And if you're sitting there thinking, "I don't know what I want to do, I just know I don't want to do this!" you have options, too. Your first step is to get clear (or, at least, clearer) on exactly what it is that you would like to do next. This can seem like an overwhelming task, but it doesn't need to be! Remember that you don't have to figure out the rest of your life right now; just plan for the step you want to take next. A few ideas to get you started: consider what you do like about your current work, think about the things you do for fun, and ask yourself what you'd like to learn to do or do more of—now, brainstorm the jobs or industries where those overlap!
Once your end goal is clear, start planning. Make a list of:
What you have to offer,

including transferable experience and skills

What you're lacking,

such as new skills you need to learn, and how you might be able to gain them

Who can help you make the switch,

including connections who can make introductions, write recommendations, or simply give you insight into a new industry

Anything else you need to prepare,

such as setting up a new budget to help you plan for a pay cut (more on that in a minute)
By getting clear and making a plan, you'll be more confident in your decision and in the next steps you need to take to successfully make the switch.
Secret Weapon #2: A Targeted Online Brand
Once you know where you're headed, you need to make sure other people know that, too—by changing the way you present yourself to the world. Think about it: If you're in finance and looking to move into writing, but all of your tweets and LinkedIn posts are about financial news, nobody is going to immediately think you'd be the right fit for a writing job.
That's why your next secret weapon is an online brand that's targeted to your new industry. There are so many affordable ways to build a presence online—from creating a personal website to writing guest blogs for industry publications, you have a unique opportunity to bill yourself as a thought leader in a new space, with a small investment of your time and money.
Don't just slap up a new professional bio and call it a day, though. Really consider the field and the connections you're targeting as you build (or update) your online presence. What do they want and need to know about you to take you seriously as you make this career shift? What topics are they interested in that you can weigh in on? What pictures will best convey your personality and the appropriate level of professionalism?
Start by setting up a personal website that acts as your home base, covering your background, your experience, your interests, your thoughts on the industry (this is where a blog can come in handy!), and links to other places people can find you on the internet, such as LinkedIn and Twitter (then make sure to update those, too, and start sharing content relevant to your target role). Squarespace has quickly become known for its intuitiveness and user experience as a website-building platform, and you can set up your own Cover Page (a one-page site) in just minutes!
It might be helpful to return to your vision and action plan, too. As you update your online persona, integrate some of the answers to your big questions on your website and throughout your content: What do you want? Why do you want it? What are you willing to do to get it?
Each online platform offers you an opportunity to frame yourself in a new light for a new career.


Secret Weapon #3: An Active Network
You've got a clear vision for career switch success and an online persona to prove it, so you know what you need and you're showing off what you've got. Now it's time to ask for help.
Reach out to the people in your network—your peers, your mentors, and any connections in the industry you'd like to transition into—and let them know about your plan to change careers. Don't discount close friends and family, either! You can and should send an email to your nearest and dearest, updating them on your career shift and asking for their support and connections.
Don't have contacts in your desired field yet? Go out and meet them! Do some research on the industry you want to move into—do they have clubs or events they frequent? What blogs and magazines do they read? Are there certain people who are clearly thought leaders? Do as they do—and find ways to meet them! Whether it's buying a ticket for the next industry conference, emailing an influencer in the industry to connect, or setting up an informational interview with someone who does what you want to do, you can start building the new network you want now.
With every request, be very specific about the help that you need—whether it be an introduction, more information, or a heads up on any relevant opportunities. Personalize each email you send, and give each recipient all of the background information they'll need to support your request. Remember, they're doing you a favor, so make this process as simple for them as possible.
Finally, take time to research the top recruiters in your desired industry and reach out to them on LinkedIn. Let them know that you're interested in making a move and you would love to stay in touch if any relevant opportunities become available. Again, show them that you've done your homework and be specific about the role you're looking for—telling them you want any job in engineering or at Facebook just won't cut it.
Secret Weapon #4: Financial Leeway
It's always a good idea to have a little financial breathing room, but it's especially helpful when you're hoping to traverse a whole new career path. The reality of starting fresh in a brand-new industry is that, well, you may just have to start fresh. It's very possible that you'll need to take a lower-level role (and the accompanying pay cut) or be out of work for a period of time. That being the case, it's helpful to plan ahead financially, too.
Once you know that you plan to make a move, start incorporating one (or more) of the following fallback strategies into your financial planning:
Update Your Budget:

It's time to take a look at your budget, and see where you might start cutting back. Look for new ways to trim regular expenses, or consider what you might be willing to forego (at least temporarily) while you start to save up.

Send More to Savings:

If you're not already, now's a great time to start setting aside some of your income for a nest egg. Use the extra savings from your new budget, or have a little more of your paycheck deposited directly into your savings account each month.

Start a Side Hustle:

Try taking on extra projects, particularly if they're in your new field of interest—you'll develop more of the requisite skills while making a little extra cash!
Hopefully, you won't have to touch any of this extra money, but if you find yourself in a situation where you need to fall back on extra finances, you'll be so glad that you planned ahead.
Secret Weapon #5: Persistence
The reality of changing careers is that it's risky—and not always easy. Again, there are a lot of unknown scenarios (all which you've planned for, of course): You may have to start at the bottom, you may take a pay cut, you may be told you're overqualified (or not qualified at all!).
It's a journey that will likely require a lot of hard work, patience, and humility, but it's important to remember that the best opportunities come to those with patience and persistence. You have planned and prepared for this next step; after all of that hard work, don't give up on your new dream just before it comes true.
Keep your spirits high and your eyes focused on your end goal. Remember, you started out with the end in mind, telling yourself why you wanted this new opportunity: Be persistent in your pursuit of it and you'll undoubtedly get there.
Comments:(0)