Michelle P
933 Times
588 People
The lack of skilled IT workers is hurting the deployment of emerging technology, according to a new survey from Gartner. In areas from cloud to cybersecurity, this crisis is expected to last for years to come.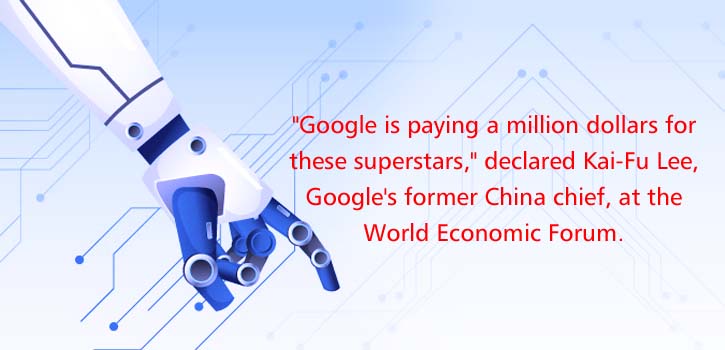 They have been proven right and demand for AI experts is soaring. This is despite the speculations that AI would actually take away jobs from us humans in different industries and sectors. That may happen in the future but today AI is creating jobs.


And what would be the reason for that? The answer is companies need skilled and qualified professionals to develop, deliver and maintain AI applications. With increased adoption of AI by more and more industries, demand will continue to rise and competition for these skills will intensify.

Indeed reported that in the US, Microsoft, Booz Allen Hamilton, Amazon, Apple and KPMG were the companies with the highest number of AI job postings on Indeed.

Also, according to Indeed, demand for software engineers with AI skills has more than doubled in the past three years. Machine learning engineers, software engineers and data scientists are the three most sought after experts by employers. Data scientists top the list and are becoming a key player in many industries- from banking and finance to health care industry including drug discovery.

Quality data is essential for artificial intelligence to succeed; hence Data Scientists who are proficient in analyzing and interpreting data are critical for a company. By providing meaningful data, these professionals are able to help companies gain insights into various aspects and also provide recommendations to implement programs to effectively meet company's goals.
Skills Required in a Data Scientist:


Strong mathematical skills

Programming languages (Java or Python)

Strong analytical skills

A masters or Ph.D.


Role of a Data Scientist is no doubt gaining importance but along with that there are other AI jobs in-demand too:


1. Data scientist
2. Software engineer
3. Machine learning engineer
4. Software architect
5. Data analyst
6. Data warehouse engineer
7. Full stack developer
8. Research scientist
9. Front end developer
10. Product manager


Are AI Experts Available?
AI is creating jobs and AI skills are in great demand but companies face a major challenge in finding tech professionals with the required skill sets.
It is not only the candidates that are in short supply but there are no experts to assess skills of those who apply for jobs. With their inability to evaluate job seekers, companies are hiring on faith with the hope that the applicant does have the required skills.
The current shortage of AI talent is an advantage for those experts that are in the market. It is the AI pros market as companies are paying high salaries to beat competition and get the right candidate.
"Google is paying a million dollars for these superstars," declared Kai-Fu Lee, Google's former China chief, at the World Economic Forum. "You may not need someone that high, but you've got to break the scale for at least one person," Lee said.
Time is ripe to change career paths and become an AI expert.
Comments:(0)