Regina Borcellino, themuse
2431 Times
1014 People
The lack of skilled IT workers is hurting the deployment of emerging technology, according to a new survey from Gartner. In areas from cloud to cybersecurity, this crisis is expected to last for years to come.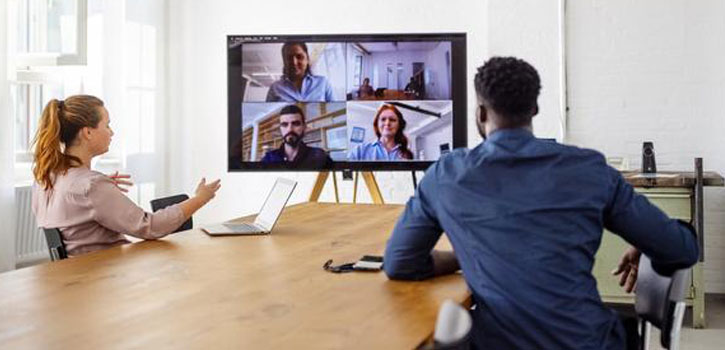 And you may have heard the term "hybrid work" thrown around either by your employer or in a news story saying that many companies are considering hybrid work models post-pandemic.
So what is a hybrid work policy and what would it mean for you as an employee if your company decided to implement one?
What Is a Hybrid Work Model?
At its most basic, a company has a hybrid work model if it has employees working both in-office and remotely. But there's a range of hybrid setups companies are considering or have already implemented.
According to a report released by Microsoft, over 70% of employees want remote work options to continue in some form and 65% want more time in-person with their teams. Some want one or the other and some want both things.
And this isn't just something employees want: Two-thirds of business decision makers are considering redesigning office spaces to better accommodate hybrid work.
Of course, some of the early moves toward hybrid work in the COVID era have been driven by safety concerns and pandemic restrictions. Many companies simply can't (legally and/or safely) have all of their employees in the office at the same time while maintaining social distancing.
According to a Gallup survey, employees who worked remotely at least some of the time both pre-pandemic and during the pandemic had the highest engagement, says Elaine Yang, Human Resources Business Partner Manager at Lever. But employees who work from home all the time are most likely to suffer from burnout.
While some hybrid plans have groups of employees who are only remote or only in the office, "Giving employees a mix of both in-office and remote work is good for the employee and good for the business." Yang says. So hybrid work schedules aren't just a temporary fix to accommodate pandemic health guidelines, they're more likely part of lasting changes to how we work.
What Are the Pros and Cons of Hybrid Work for Employees?
Ideally, hybrid work offers a perfect combination of convenience and productivity, says Mariel Davis, cofounder of Spokn, a platform that helps hybrid companies communicate. If your company adopts a hybrid work model, you'll hopefully spend less time doing low-value activities like commuting or trying to focus on deep work in a crowded office.
"Staying flexible allows employees to create a greater balance and autonomy during their week," says Kerry Wekelo, COO of Actualize Consulting. "Employees are able to spend time with their kids, eliminate the hassle of taking PTO for doctor appointments, and complete house chores."
Hybrid work environments are more inclusive for those with various caregiving and other outside-of-work responsibilities, those who have more difficult commutes or less access to transportation, or anyone who may have mental or physical health issues that make working in an office more difficult some or all of the time.
Drawbacks
However, there are some drawbacks to hybrid work.
One is that it might be harder to forge connections with your entire team. You may naturally bond more with coworkers you see in person regularly than with coworkers who are entirely remote or who work on different schedules.
Another drawback is that employees who work in the office more or just work in-office at the same time as managers and leadership may be more visible, Davis says, and, in turn, they might be perceived as more dedicated even if that's not the case.
Additionally, if working remotely at least some of the time is required of every worker and you don't have an ideal home environment for remote work perhaps you have unreliable internet, live with roommates, or don't have enough space for a designated work area; you may be at a disadvantage.
During the pandemic especially, workers may also be uncomfortable with mandatory time in the office due to safety concerns.
The good news is that many of these drawbacks can be mitigated or even eliminated if your employer plans out the implementation of hybrid work. Once implemented, make sure you understand your company's exact policies so that you can figure out what, if any, choices you need to make to get the most out of hybrid work.
Comments:(0)