Cynthia Harvey, Informationweek
146 Times
98 People
The lack of skilled IT workers is hurting the deployment of emerging technology, according to a new survey from Gartner. In areas from cloud to cybersecurity, this crisis is expected to last for years to come.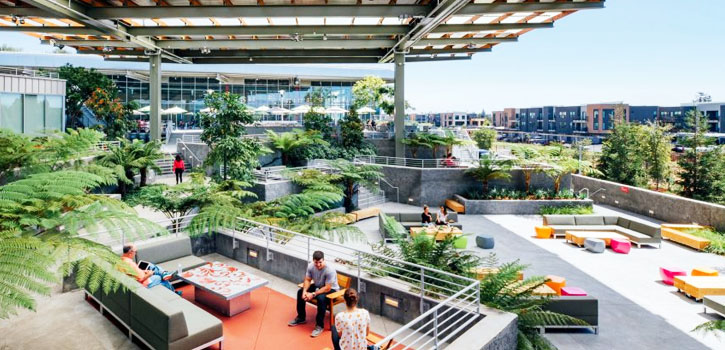 Thanks to several decades of high demand for their skills, technology workers have become accustomed to being courted by employers. High salaries, outstanding benefits, lavish time-off policies and perks like free food are the norm.
Because they know how valuable their skills are, IT professionals are often on the lookout for the very best places to work. This article includes new data from job posting site Indeed.com and also incorporates salary and rating information from Glassdoor.com, as well as information provided by the companies' annual reports and websites.
Last year, one of the more interesting things about the list was how few of the top-rated tech employers were in Silicon Valley. This year, that trend has reversed. Twelve of the 15 best places to work in tech are now headquartered in California (although all have offices outside Silicon Valley as well).
Also, almost all of the companies on this year's list are ones that average people who don't work in the technology industry are fairly likely to recognize. Some of the more obscure employers featured last year have dropped out of the top 15.
Overall, the list changed quite a bit from 2017. Six of the companies on this year's list didn't make the cut in 2018, and only one company is in exactly the same spot on the list as it was last year. The number one employer might be a surprise, and also somewhat surprising is the fact that Google did not make the top 15 (although another Alphabet subsidiary did).
One thing that almost all the companies on the list have in common is that, with only a couple of exceptions, they turned in a strong financial performance for 2018. It seems that high revenue also correlates with happy employees.
Once again, all these companies are hiring, so if you're in the job market, this would be a great place to start. Topping the list is…
1. Facebook
The top spot on the list for 2019 goes to Facebook. Despite coming under growing scrutiny from lawmakers and privacy advocates, the social network remains a popular place to work. It's also a popular website, with 1.52 billion daily average users as of December 2018. It is number 76 on the Fortune 500 list.
2. Adobe
Adobe remained in the number two spot on the list for the second year in a row. The software vendor is best known for its creativity tools, such as Photoshop, Illustrator, InDesign and Spark, which it sells as cloud services. It also offers tools for marketing and creating PDF files. It is number 389 on the Fortune 500.
3. Airbnb
According to the Airbnb website, around 2 million people stay in a room they booked through Airbnb on any given night. And some of those rooms are in the more than 4,000 castles and 2,400 treehouses that are available through the service. The privately held company is expected to file for an initial public offering (IPO) in 2019, and while it has not released annual earnings, it did disclose that it had $1 billion in revenue in the third quarter of 2018.
4. Intuit
Software maker Intuit climbed up the list several places this year. It is best known for its QuickBooks and TurboTax software, but it no longer owns the Quicken financial management software that was its flagship for many years. The company has employees in 19 offices in nine countries around the world, and it has won multiple awards for being an excellent place to work.
5. Yahoo
Like AOL, Yahoo was formerly part of Oath, which has been rebranded as Verizon Media Group. The company has struggled financially of late, leading Verizon CEO Hans Vestberg to say that the division "wasn't as much of a contributor to earnings as we would have liked it to be" and announced some job cuts. Despite the layoffs, the company made Indeed's list of top-rated technology companies, with employees pointing to its "exceptional work-life balance" as a key reason.
6. SalesForce
Although no longer the most popular place to work in technology, according to Indeed.com, Salesforce continues to get high marks for its compensation and benefits, and 99 percent of Salesforce employees say they approve their CEO. The company grew its annual revenue 25 percent year-over-year, and it says that 95 percent of Fortune 100 companies run at least one Salesforce AppExchange app. The company is best known for its cloud-based CRM, and it also offers tools for marketing, ecommerce and an app development platform.
7. YouTube
Owned by Alphabet, the parent company of Google, YouTube is the second most-popular website on the Internet. In fact, YouTube hosts so many searches every day that some people consider it the second most popular search engine behind Google. The company says it has more than a billion monthly active users. The company doesn't provide detailed statistics about its employees, but its workers give YouTube high marks as a place to work.
8. LinkedIn
A division of Microsoft, the LinkedIn social networking site for professionals boasts more than 610 million users in more than 200 countries. The network has become particularly popular as a recruiting and hiring platform, and in 2018 it posted more than 20 million job listings. It has offices in more than 30 cities around the world, and the photo above is from its office in Detroit, Michigan.
9. SAP
Short for Systeme, Anwendungen und Produkte in der Datenverarbeitung, which translates to "Systems, Applications and Products in Data Processing," SAP offers a wide variety of systems, applications and other technology products, including its flagship ERP software, CRM, HANA and cloud computing tools and services. It focuses on the enterprise market and claims to serve more than 335,000 different businesses. It notes that its customers produce 64 percent of the world's ice cream, 85 percent of the world's pet food, and 86 percent of the world's athletic footwear. According to the company, in 2018 alone it won more than 175 different awards for being a great place to work.
10. Apple
Apple also fell a little bit in the employer rankings between 2018 and 2019, and although sales for some of its products have flattened or even declines in recent quarters, it continues to be the largest technology company in the world. Currently, Apple is number four on the Fortune 500 list. Today, much of its revenue comes from its services, including the App Store and Apple Music. It has a very loyal fan base and one of the most valuable brands in the world.
11. Microsoft
Microsoft dropped several spots on the best places to work list between last year and this year, but it is still one of the most highly desirable employers in the tech industry. Its flagship software products, including Windows and Office, continue to sell well, and it is the world's second largest provider of cloud computing services — an area where it is continuing to grow rapidly. It is number 30 on the Fortune 500.
12. eBay
According to eBay, more than 600,000 people sold things on its site in 2018, and the company likes to say, "If it exists in the world, it probably is for sale on eBay." Its revenue climbed 8 percent year-over-year, and it is number 309 on the Fortune 500 list. The company also owns the ticket resale site StubHub.
13. CISCO
Born when the husband and wife team of Len Bosack and Sandy Lerner were trying to find a way to email each other from their offices at Stanford University, Cisco continues to lead the networking hardware and software market. Today, it also offers IoT, security, collaboration, servers and other products. In 2018, the company reported its highest annual revenue in history, and it is number 62 on the Fortune 500 list.
14. AOL
You might be surprised to know that the company once known for its ubiquitous CDs promising easy dial-up Internet service is still around. Now part of Verizon Media (which was briefly known as Oath), the company recently announced layoffs. According to Verizon, more than 500 million people visit the AOL portal every month. It also offers some security products, mail, identity protection and system cleanup tools.
15. AMD
No longer just the second-place CPU maker behind Intel, in recent years AMD has emerged as one of the most innovative technology companies in the world. Thanks to its highly prized Ryzen processors and Radeon graphics cards, the company announced that its 2018 revenue grew $1.2 billion year-over-year, and its profitability was the highest it had been in seven years. CEO Lisa Su has received plenty of praise in the press, and it's not too surprising that the company's financial success has resulted in higher marks from employees and job seekers.
Comments:(0)