Glassdoor
321 Times
222 People
The lack of skilled IT workers is hurting the deployment of emerging technology, according to a new survey from Gartner. In areas from cloud to cybersecurity, this crisis is expected to last for years to come.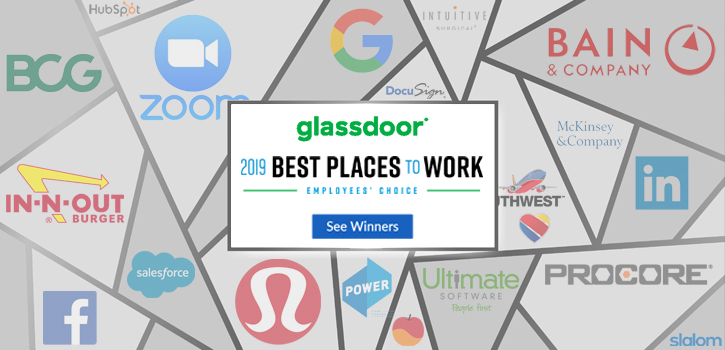 This year's winner, Bain & Company, has done just that. The Boston-based consulting firm beat out hundreds of thousands of employers for the top spot, marking its 11th consecutive year on the Employees' Choice Awards list.
"It feels fantastic for all of us at Bain & Company to win this top spot," says Manny Maceda, Worldwide Managing Partner at Bain & Company.
Employees at Bainies boast about the high-performance environment with strong emphasis on company culture plus the career-defining perks. From four to six-month externships at an organization of an employee's choice related to their professional goals to global soccer tournaments, regular team off-sites and happy hours, Bain embodies a modern workplace.
While Bain took the top spot, Glassdoor has recognized a total of 100 companies in their 2019 Best Places to Work list for U.S. Large Employers (defined as more than 1,000 employees). Beyond that, they have also compiled Best Places to Work Lists for U.S. Small & Medium Companies (fewer than 1,000 employees), the UK, Canada, France and Germany.
Here are a handful of amazing companies that have won big this year.
Top 20 Best Places to Work along with ratings: U.S. Large Employers
Bain & Company
Zoom Video Communications
In-N-Out Burger
Procore Technologies
Boston Consulting Group
LinkedIn
Facebook
Google
lululemon
Southwest airlines
SalesForce
Intuitive Surgical
St.Jude Children's Research Hospital
Slalom
Power Home Remodeling
HubSpot
DocuSign
Ultimate Software
McKinsey & Company
Paylocity

4.6

4.5

4.5

4.5

4.5

4.5

4.5

4.4

4.4

4.4

4.4

4.4

4.4

4.4

4.4

4.4

4.4

4.4

4.4

4.4
Top 10 Best Places to Work: U.S. Small & Medium Employers
Heap
Horizon Innovations
Silverline
Marketing 360
Digital Prospectors
GetUWired
Weave
Malouf
HighSpot
Peabody Properties

4.9

4.9

4.9

4.9

4.9

4.9

4.9

4.9

4.9

4.8
Comments:(0)