ITJobCafe
2556 Times
1553 People
The lack of skilled IT workers is hurting the deployment of emerging technology, according to a new survey from Gartner. In areas from cloud to cybersecurity, this crisis is expected to last for years to come.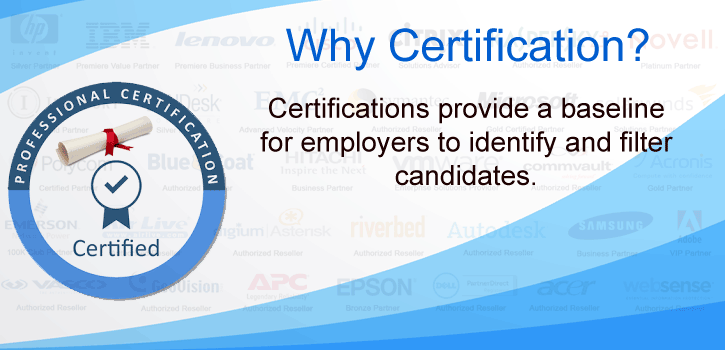 But the truth is that in today's competitive marketplace, IT certifications are a means of standing out in the crowd and differentiating oneself from others. It is also true that not all certifications have the same value and recognition in industry. It is important to do some research before undertaking the study.
Armed with the right certification, IT professionals can definitely command a higher salary and better career growth.
Why Certification?
Every year thousands of open positions in IT are reported in US and employers are unable to find candidates with the right skills to fill those positions. Skills gap is huge. Certifications provide a baseline for employers to identify and filter candidates. An industry recognized certification is proof of the candidates' proficiency in a skill and puts them ahead of other job contenders. Actual advantages are:
Selecting the right certification
The right certificate definitely gives a job seeker a competitive advantage but acquiring these certifications can prove to be expensive. It is not only the fees for the exams, but training classes, books and other materials and time that all add up. Despite the costs, benefits are greater and this can be viewed as an investment in ones' future and career advancement.
Cost is one of the reasons, due diligence should be exercised while selecting the certification. To reap the benefits of this investment, an industry recognized certificate is the one to acquire.
Preparation can be inexpensive
Even though certification is expensive, preparing for it should not be. Many resources are available on the internet where no fees are required but at the same time these are good and provide quality education. Thanks to these sites, IT professionals can obtain certification by avoiding training costs. Some of these sites that can be used as a starting point are listed below:
EdX
EdX is an excellent resource for free IT training even though it is not exclusively focused on IT. Founded by MIT and Harvard, it features top-quality online classes from leading universities as well as from vendors like Microsoft. Courses are free, but there is a charge for certification and these are not IT certs like the ones offered by CompTIA. Even though the certificates offered are specific to EdX, the knowledge gained is of the standard required by industry and will help you in your career advancement.
Microsoft Virtual Academy
Microsoft certifications are among the most popular in the industry, and unlike most other cert vendors, the company offers hundreds of free training courses through Microsoft Virtual Academy. Some of the most popular courses available are "C# Fundamentals for Absolute Beginners," "Using Node.js with Visual Studio Code," "Mastering Microsoft Certification Exam Prep," "Building Blocks: Internet of Things (IoT)," "Introduction to ASP.NET Core 1.0" and "Microsoft Azure Fundamentals." The course library is easy to search, and those who sign up on the site also get access to live events, free e-books, and discounts on Microsoft Press books and more.
4Tests
Excellent resource for practice tests. It offers practice exams for Microsoft, CompTIA, Java programming, Cisco and Oracle. In addition to IT, it has materials related to tests, such as the SAT, GED, ACT and ASVAB. It offers tips and tricks to address many questions in preparation for the exams.
Search Security
For those interested in cyber security and hacking and in becoming a Certified Information Systems Security Professional (CISSP), courses at Search Security can help you in achieving your goal. All you need to do to access the courses is create a free account and start learning. They offer free lessons in each of ten modules of CISSP exam.
Cybrary
Cybrary takes the open source concept and applies it to IT training. Many of the courses available through the site are related to security, but there are also courses designed to prepare you for popular IT certification tests, including CompTIA A+, Cisco CCNA, CISM, PMP, Microsoft Certified Solutions Associate and many others. The courses are self-paced, and the website offers an estimation of how long each will take. The site also offers its own skill certification exams; however, these are not as widely recognized in the industry as some of the other certs available.
W3 Schools
W3 schools offers almost every web technology training that is complimentary. To become a certified web developer you have to take a test that can be taken online. Their certifications include HTML, CSS, JavaScript, jQuery, XML, ASP, and PHP.


CertForums
As the name suggests this is a Forum with hundreds of members who share valuable information about courses, exams and certifications. It hosts many boards and there are several ongoing discussions among others on specific IT certifications, including Microsoft, CompTIA, Cisco, VMware, etc. If you want to know more about why to get a certification, you can get that information here. Participation in the forums and membership is completely free.
ExamCompass
For those interested in the popular CompTIA exams, ExamCompass is a great free resource for practice tests. Offers free online practice Exams for CompTIA A+, Network+, Security+, and Server+. It has twenty different online tests with free score reports, as well as deep dives into subject areas like RAM, storage, CPU, display devices, printers, networking, acronyms and hardware troubleshooting.
Professor Messer
Professor Messer is for visual learners. The site features an extensive library of free training videos meant to prepare viewers for the CompTIA A+, CompTIA Network+, CompTIA Security+ and Microsoft 70-680 (configuring Windows 7) certifications. They organize study groups and also have a discussion forum to help those professionals working towards a certification. All the videos are completely free for online viewing and they also have paid downloadable high-definition versions for those who want to watch offline. In addition, you can sign up for free pop-quiz emails.
Creating IT Futures
'Creating IT Futures' a non-profit organization established their leading program, IT-Ready, in 2012 in Minneapolis / St. Paul with the aim of providing free IT programs to help people living in or who are at-risk for poverty; displaced workers; women and minorities; and military veterans. Nearly 95 percent of graduates earn their CompTIA A+ certification and 80 percent move into paid IT roles with area companies. This is an in-person training program offered in Atlanta, Chicago, Columbus, Dallas, Minneapolis/St. Paul, New York, Omaha, Philadelphia, or Washington, DC.
Hire Our Heroes
If you're a veteran of the U.S. military, you can get access to free training through Hire Our Heroes. The program aims to ease the transition from military to civilian life by providing veterans leaving the armed services with training, mentorship and job opportunities. Currently, interested veterans can get free cybersecurity training through the Federal Virtual Training Environment (FedVTE), Certified Storage Associate (NCSA) training from NetApp, CyberTalent Immersion Academy training from SANS Institute, VetForce training for Salesforce certification, Certified SAP Associate training through NS2 and free CAD training through the United States Technical Education Center (USTEC).
Comments:(0)