Shelby Hiter, Datamation
801 Times
474 People
The lack of skilled IT workers is hurting the deployment of emerging technology, according to a new survey from Gartner. In areas from cloud to cybersecurity, this crisis is expected to last for years to come.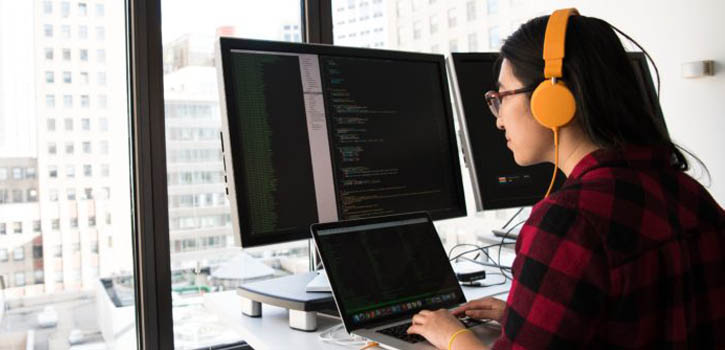 The cloud computing job market has also grown to meet the development and regular maintenance needs of enterprise cloud infrastructure. Whether you're a new high-tech graduate or an experienced engineer, recruiters are looking for candidates for a diverse range of locations, titles, and specialties in the cloud computing market.
Cloud Computing Market
The global cloud computing market is one of the fastest-growing technology markets in the world. It reached $274.79 billion in 2020 and is expected to grow at a compound annual growth rate (CAGR) of 19.1%, reaching $1.25 trillion by 2028, according to Grand View Research.
How do you get hired in cloud computing?
This growing market includes several cloud platform and services vendors, but the market is overwhelmingly dominated by multimillion and billion-dollar enterprises.
The following large cloud vendors hold a significant share of not only the cloud computing market, but the tech industry as a whole:
Although every company develops and implements cloud technologies in slightly different ways, most companies hire for cloud computing roles that build, monitor, and manage both cloud technologies and the data that powers them:
Cloud Architect
Cloud architects design the infrastructure and ideas behind a cloud setup, thinking long-term and strategically about how the cloud can be improved.
Cloud Engineer
Cloud engineers handle day-to-day management, monitoring, bug fixes, and other necessary solutions within cloud infrastructure. This person typically works closely with cloud architects.
Cloud Developer
Cloud developers create and optimize applications to be hosted on public or private clouds. Although they don't typically work directly on cloud infrastructure, they have to be very familiar with it in order to design compatible applications.
Cloud Consultant
Cloud consultants are usually third-party vendor representatives who help clients deploy or customize cloud platforms and software. Although they likely have an engineering or coding background, many cloud consultants originally come from a sales or marketing background.
Data Scientist
Data scientists work across a variety of tech fields, but in the cloud computing realm, they often focus on improving data quality and searchability as well as enabling machine learning (ML) and artificial intelligence (AI) solutions in the cloud.
Education For Cloud Computing Roles
The majority of cloud computing employees have a master's degree or a bachelor's degree in one of the following technical fields: computer science, management information systems (MIS), or engineering.
Some universities, such as Purdue University, have also started offering degree programs in cloud computing that are quickly gaining traction.
Since several companies are hiring for specific cloud skill sets, you can set yourself apart from other candidates if you build knowledge in the following specialty areas:
Salesforce and customer relationship management (CRM) cloud development

Programming languages (Python, Java, HTML, C/C++, SQL, NoSQL, and Linux are good places to start)

Security best practices (consider widely recognized certifications like CISSP)

Platform/brand-specific certifications and experience (Google Cloud, Microsoft Azure, AWS, etc.)

DevOps and agile best practices

Cloud Computing Open Roles
LinkedIn has several hundred thousand open positions listed for cloud computing roles. Although smaller companies are also hiring for cloud computing specialists, LinkedIn's open positions are mostly posted by larger enterprises like:
Google

General Mills

Rackspace

NVIDIA

Salesforce

Akamai Technologies

Zoom
Cloud Computing Salaries
While average salaries in most career fields are easier to identify based on job title, cloud computing salaries mostly hinge on the specific cloud skills and platform experience that candidates have to offer.
It's important to note that while many cloud computing salaries have remained fairly stagnant over the past couple of years, employees with marketing and sales cloud specialties have increased their average salaries significantly:
Hiring And Getting Hired In Cloud Computing
The cloud computing job market has been a strong one since its genesis, but with the growth of remote work and computing, more cloud computing vendors and enterprise customers are looking for cloud experts to join their team.
The pool of cloud candidates, however, is limited. Recruiters are noticing an extreme shortage of skilled tech workers, making cloud computing roles highly lucrative for qualified candidates.
"Tech roles have the lowest supply of available talent of any occupation right now," said Jay Denton, chief analyst at ThinkWhy, an AI-driven talent solutions company.
If you're a recruiter, consider pushing for an increased budget when hiring for cloud roles. If you're a candidate in the cloud computing job market, continue to build on the skills and platform-specific knowledge that are in high demand right now and being rewarded.
Originally Published On: https://www.datamation.com/careers/cloud-computing-job-market/
Comments:(0)