Christine Y. Cruzvergara, Forbes
68 Times
49 People
For the thousands of employers who have struggled for years to attract top tech talent, turbulence in the tech sector represents a massive opportunity right now.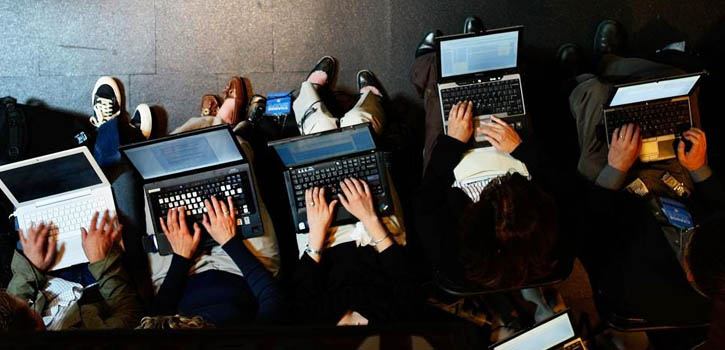 Getty Images
After years of hiring at a break-neck pace, U.S. tech companies big and small responded to macroeconomic headwinds by laying off nearly 160,000 employees in 2022 and more than 100,000 so far this year.
Savvy organizations outside the tech sector have realized this isn't just about hiring recently laid-off talent. Rather, the opportunity to build a deep and transformative tech bench starts with this coming class of college graduates. The class of 2023, proud members of Generation Z, has been forged in a different crucible — and views the world of work a little differently — than the millennials who came before them.
Here are three things companies should know about the next crop of college graduates as they recruit and hire early tech talent:


The class of 2023 values stability.
Today's college seniors grew up during the Great Recession and went off to college during a global pandemic. Current economic news stresses them out, and they're nervous about finding a career that will let them repay their college loans.
All of this anxiety has trickled down into their job searches. Many are applying to more jobs sooner. Roughly a third of them say they'll apply to a more diverse range of jobs to find the stability they're seeking.
Stability is crucial to the class of 2023 — equally as important to them as a good salary, and significantly more important than working for a name-brand company or in a fast-growing field.
The class of 2023 is looking for industry stability — that is, enduring companies in established industries that are adapting successfully to changing conditions. Companies like Ford and General MotorsGM -0.9% have made cars and trucks for more than a century, but today they have emerged as tech leaders in their pursuit of autonomous vehicles, zero emissions and a host of other digital enterprises. Another 100-year-old company, Hilton Hotels & Resorts, is looking for tech solutions to enhance guest stays. One of those innovations, a digital room key that multiple guests can share, will significantly reduce plastic waste.
Stability also means they are on the lookout for companies that offer career pathing. Remember, the class of 2023 wants to land a good job and keep it for a while. Laying down a solid path to career advancement can get them to stay.


The class of 2023 wants flexibility.
Recent surveys have found that the millennial and baby boomer generations see remote work as extremely desirable. But relatively small percentages of Generation Z are enamored of remote work and want to do it full time.
After growing up on social media and attending college classes via Zoom U, the class of 2023 wants to be in the office. They crave in-person experiences such as building networks, getting advice from mentors and immersing themselves in the workplace culture. Two-thirds of them told us they are willing to move to a new city for the right job.
But the class of 2023 doesn't want to work exclusively in the office. More than 60% want hybrid options that let them work remotely at times. As much as they want to make workplace connections, they also are looking to save some time and money by reducing their commuting costs.


Early talent wants to make an impact and is open to a wide range of industries to find it.
Working in Big Tech has long been alluring to early talent because it promised the opportunity to make a difference in the world on literally a global scale.
Today, Gen Z is looking to other sectors of the economy to fulfill that promise – including the U.S. Government. Government is currently the industry seeing the biggest increase in tech job postings on Handshake (up 36%) and we've already seen applications per role for tech jobs within government increase by 5x since the start of 2023. The jobs are there and Gen Z is interested. This week, Handshake worked with the Biden Administration on a virtual event for students to hear directly from recent grads working in tech roles across the federal government.
Gen Z is similarly looking to make an impact in growing and cutting edge sectors like climate tech, manufacturing, and semiconductors – all of which are in growth mode because of recent and significant federal investments in these industries. Many of these companies are based outside of coastal hubs that have long been top destinations for tech graduates. Gen Z tech talent doesn't seem to mind. They're signaling increased interest in places like Arizona, which has seen applications for tech roles more than double.
Impact also means the class of 2023 wants to work for companies that embrace sustainable practices that will do good in their industries and their communities. Nearly two-thirds of Gen Z told us they are more likely to apply to companies that have committed to sustainability by such things as signing a climate pledge or using carbon offsets. Almost 60% say they actively avoid companies they think are harming the environment.
The turbulence buffeting Big Tech will eventually die down, and those companies will eventually resume hiring in big numbers. Until then, companies that can promise stability, flexibility and impact will be in play for the tech talent in the class of 2023.



Originally Published On: https://www.forbes.com/sites/christinecruzvergara/2023/03/02/companies-outside-of-big-tech-are-winning-top-talent-this-year-heres-how-theyll-do-it
Comments:(0)