Patrick Seitz, Investors
119 Times
80 People
Fallout from the Covid-19 pandemic, supply chain disruptions and digital transformation trends dominate 2022 predictions for the tech industry.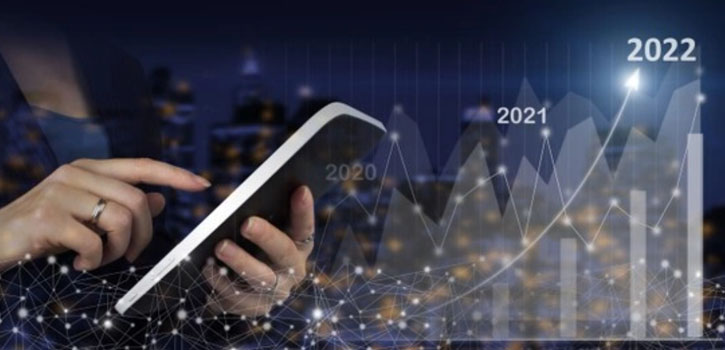 "The big challenge for companies is this continuing buffeting of crosswinds, whether that's geopolitical or breakdowns in supply chain or changes in how the pandemic is affecting different countries," Rick Villars, IDC group vice president for worldwide research, told Investor's Business Daily.
The pandemic accelerated enterprise plans for digital transformation, Villars said. And those plans will evolve in the year ahead, he said.
Recently, IDC released its 2022 predictions for the technology industry.
Cloud Providers As Tech Business Partners
The year ahead will see more companies resetting their cloud-computing selection processes, Villars said. They'll focus on business outcomes rather than information technology, or IT, requirements, he added.
Enterprises, especially the Global 2000, are beginning to expect more than commodity cloud services from their providers, he said. They want to leverage cloud service providers as sources of innovation to help them digitally transform their operations, Villars said.
More enterprises will lean on cloud providers as technology business partners. Those providers are led by cloud giants Amazon (AMZN), Microsoft (MSFT) and Google parent Alphabet (GOOGL).
2022 Predictions For Software-As-A-Service
Among its other 2022 predictions, IDC believes the year ahead will see companies consolidate their software-as-a-service plans, favoring integrated bundles. In many cases today, companies are paying multiple companies for related services and they now want to optimize, Villars said.
In 2022, 40% of large enterprises' IT budgets will be redistributed due to adoption of integrated as-a-service bundles, IDC said.
Managers Seen As Impediment
Meanwhile, rival researcher Gartner believes corporations will remove a layer of management to speed operations.
In its 2022 predictions, Gartner forecast that 30% of corporate teams will be without a boss by 2024. That's due to the increasingly self-directed and hybrid nature of work.
"The role of the manager as the commander-and-controller of work is a major impediment in an era where business agility requires team empowerment and autonomy," Daryl Plummer, Gartner research vice president, said in a news release.
"Planning, prioritizing and organizing work efforts still must happen, but it is essential to decouple 'management' from the traditional 'manager' role to reap the benefits of business agility and hybrid work."
The pandemic forced businesses to be nimbler and value streamlined operations, according to Gartner.
2022 Predictions For The Hybrid Worker
For 2022, CCS Insight forecasts the hybrid worker will become the default user for IT provision and management processes.
Prior to the pandemic, most information technology teams considered office-based employees to be their default IT user. As such, provisions for information technology revolved around office-based workers as the norm. That shifted to remote workers during the Covid-19 pandemic.
In 2022, workers will split their time between traditional and at-home offices.
Hybrid working will help businesses cut an average of one-quarter of their office space by 2025, CCS Insight predicted.
"Even before Covid-19, the average percentage of desks in use at any one time was only 50% to 60%," CSS Insight said in a report. "With more people working remotely more often, businesses see an opportunity to save costs by reducing their office space, particularly in expensive city center locations."
Originally Published On: https://www.investors.com/news/technology/2022-predictions-covid-driven-digital-transformations-continue/
Comments:(0)