ITJobCafe
622 Times
410 People
The lack of skilled IT workers is hurting the deployment of emerging technology, according to a new survey from Gartner. In areas from cloud to cybersecurity, this crisis is expected to last for years to come.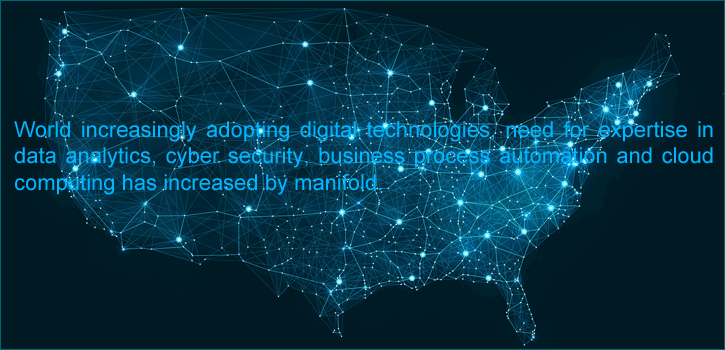 Here is a deeper dive into trends and opportunities in the US technology job market.
Technology industry
In the year 2016, 4.4 per cent of the US workforce was employed in the technology sector. In other terms, 5.5 per cent of the private sector workforce was employed in the technology sector. Of the 6.9 million jobs in technology sector, 46 per cent were tech occupation jobs. The remaining 54 per cent were positions like sales, HR and finance, required to run a business.
With the world increasingly adopting digital technologies, need for expertise in data analytics, cyber security, business process automation and cloud computing has increased by manifold. The need translated into largest numerical gain in employment - that is 110,000 new jobs in the IT services and custom software services subsector. Growth in the data processing, hosting, and search portal services categories lead to creation of 35,475 jobs in the telecommunications and Internet services sector. The software category (published or packaged software products) added 25,000 new jobs.
Tech industry wages
The average wage of tech sector employees was 105 per cent higher than the average wage of employees in the country. The wages of tech industry workers reflects the strong demand for their skill sets and expertise. IT professionals in software subsector followed by those in IT services and custom software services category earned the highest average annual wages.
State employment
36 states added tech sector jobs while 15 states reported job losses. California tech sector added 48,600 new jobs and led the nation with the highest average annual wage for tech sector employees at $154,000. New York, North Carolina, Texas, and Michigan too added significant numbers. South Dakota, Mississippi, Wyoming, West Virginia, and Montana ranked at the bottom in terms of average tech sector wages.
Technology occupations
In 2016, tech occupations across industries reached 7.3 million, translating to 2 per cent growth on previous year. 627,000 jobs in industries such as banking and healthcare are still waiting to be filled by technologists with the right skills. IT occupations constituted 62 per cent of total tech occupations adding 115,000 new jobs. Software developers, computer systems analysts, and IT support specialists were in demand to fill 71,450 new jobs that were created.
Tech startups and business establishments
36,508 new of tech businesses were launched - 1,800 new firms in IT services, and 1,281 new firms in the areas of data processing, hosting, web search portals, and related services.
Tech business establishments totaled 492,550, constituting 5.1 per cent of all business establishments and 5.3 per cent of private sector establishments.
The technology job market hold promises to IT professionals with good skills. Whether it is opportunities or compensation the future in IT bright is bright for technologists.
Comments:(0)