Michelle P.
919 Times
687 People
The lack of skilled IT workers is hurting the deployment of emerging technology, according to a new survey from Gartner. In areas from cloud to cybersecurity, this crisis is expected to last for years to come.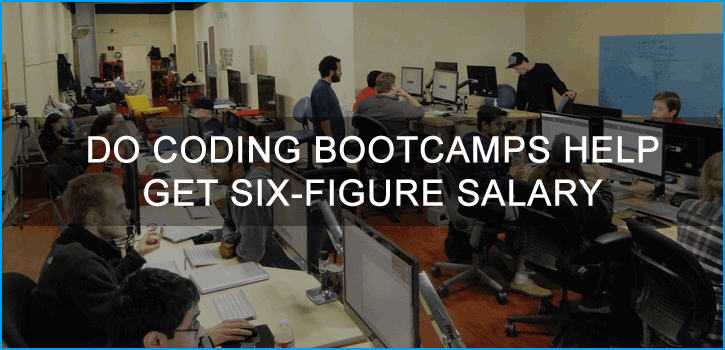 In 2012 a few innovators got together and decided to address this challenge faced by companies. They started coding bootcamps to train individuals in computer programming in a period of about 8 - 12 weeks and place them at companies. These programs were started by developers and were short but intensive. App Academy, Dev Bootcamp, General Assembly and Hack Reactor were founded in 2012.
Since then this budding industry has seen tremendous growth with Bootcamps popping up at a fast pace. In addition to classroom based camps there are several that offer courses online. A 100% growth rate is projected. Here's the growth pattern of companies offering offline bootcamps:
2014 – 45

2015 – 69

2016 – 95

2017 - 121
No doubt bootcamps are growing but can they help you get a job with high salary?
Based on all the data and experiences of bootcampers, the answer to that question is 'Yes'. With less monetary and shorter time investment, a serious candidate aspiring to become a programmer can surely embark on a tech career.
Bootcamps are for students with very little coding proficiency that help them to focus on the most important aspects of programming and apply their new skills to solve real-world problems.
Bootcamps are definitely a cheaper alternative to college education but do not provide the extensive and thorough education as a university that equips a candidate to work on a broader range of software engineering jobs. Along with the growth and popularity of this mode of education, average length and fees too have increased though definitely less than a four year degree program:
In 2015 – 9.6 weeks classes cost around $11,200. In 2016, duration of the program increased to an average of about 10.8 weeks and cost to an average of $12,800. In recent months, some companies have started offering programs that range from six months to a year that provide more in-depth training.
What Do They Offer?
These programs address immediate needs of the market and are relevant to current demands. They offer practical training that can be applied to solving problems on a job. The focus is on programming and there are no other general courses to distract the participant. Candidates remain totally immersed and focused on programming. Hard work is expected and required to succeed after completing the program. Some programs require students to devote at least 40 hours a week in class.
This job oriented and practical training can help students get a foot in the door and advance in their tech careers. Along with highly technical people, companies also need those who can solve say a web development or user experience development problem – this is where bootcamp graduates come in; they fill this need resulting in a win-win situation for both.
Jobs that require theoretical knowledge of how computers work such as in system design or in understanding algorithms, etc. may not be the right ones for these graduates unless they pursue computer science studies or already have that background and education.
Is Tech Career Right For You?
A developer's high salary is very attractive and this is one of the reasons why people want that career but without studying for the four year computer science degree program. So how can they enter this field and earn that salary?
Answer is Coding Bootcamps. But these are not for hardcore software engineering careers. Bootcamps can help only in certain types of jobs and to get a foot in the door.
Bootcamps do help candidates embark on their dream career that offers a six-figure salary but tech bootcamps are not for everyone. The salary is attractive but the lure of the salary can land you in a program and career that you do not enjoy or like.
Determine If You Like Coding
Before joining a program it is important to determine if programming is something you like.
The best route would be to determine your aptitude for programming by taking online classes. Several free or nominal fee classes are available, taking these and learning coding will help you determine if this is the right choice. Completing an entire course will help you determine if a tech career is the path forward.
Are You Ready to Work Hard?
Be prepared for hard work once decision is made to move forward on this path. The prospect of studying towards a Computer science degree program may have been daunting but hard work and focus is required in a bootcamp as well. If adequate effort and hard work is not put in, the results too will be disappointing.
Most bootcamp programs are very intensive and require hours of focused work on a computer. This may not be a right choice for those who like to work with people and don't like a desk job. Be prepared to work hard. Drive is required.
Is it Affordable?
Even though these programs do not cost as much as a degree program, the fees are high. Average tuition is around $12,800+. And if the program is not offered in your location, travel, lodging and boarding will be additional. If returns are guaranteed, this may seem like a small amount and worth investing. There have been several reports of students who got a substantial raise after a bootcamp and on the flip side there are reports of graduates struggling to find a job.
Researching the company and program is critical. There are programs popping up everywhere hence doing due diligence in identifying the right program is crucial.
Bootcamps are attaining popularity and recognition. At the same time, job seekers attending and taking advantage of these camps are steadily growing as well. But it is clear that bootcamps are not for all and bootcamp graduates are not for all companies. Nevertheless coding bootcamps are definitely meeting an important need of both; the market and job seekers aspiring to become coders and earn a high salary.
Comments:(0)