ComputerScience
230 Times
184 People
The lack of skilled IT workers is hurting the deployment of emerging technology, according to a new survey from Gartner. In areas from cloud to cybersecurity, this crisis is expected to last for years to come.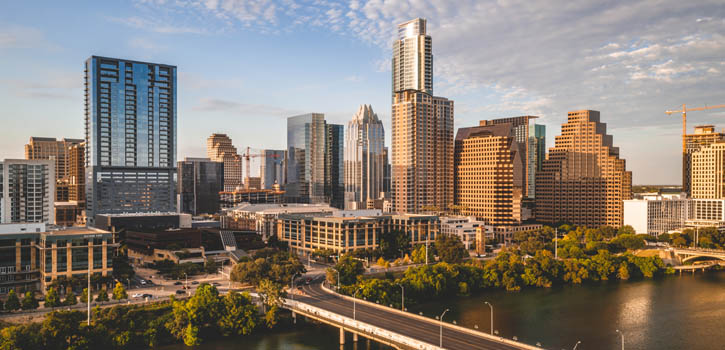 Many computer science and tech-related professions should see significant growth in the years ahead. The U.S. Bureau of Labor Statistics (BLS) projects a 31% growth rate for cybersecurity positions and a 22% growth rate for software development roles from 2019-2029. These new roles may open in emerging tech cities across the United States.
Some cities with developing tech sectors offer low costs of living, strong salaries, and significant venture capital investment.
Which five cities are these and will you relocate to these?
Today's Best Cities for Tech Jobs
The five best emerging cities profiled in this ranking offer strong and growing tech industry job numbers, plus appealing salaries.
AUSTIN, TEXAS
U.S. Census Bureau data indicates that Texas is the fastest-growing state in the country. Austin added more than 177,000 residents from 2010-2019.
Major tech companies including Atlassian, Facebook, Google, and Oracle have established a strong presence in Austin, leading industry observers to dub the city "Silicon Hills."
Leading Tech Careers
Popular subfields include IT support, data science and analysis, QA testing, and entry-level help desk and tech support roles.
Top Tech Employers
CompTIA includes IBM, Dell, Amazon, Apple, and Advanced Micro Devices among Austin's leading IT employers. Financial services companies, including Deloitte, Charles Schwab, and Visa, also hire tech professionals in the Austin metro area.
Recent Tech Growth
In 2019, Austin became the new home of 58 relocating technology companies, bringing about 19,000 new IT job listings to the city from 2019-2020, according to CompTIA. Venture capitalists have responded to the trend with a surge in funding. In 2019, Austin received 87% more VC investment than it had just two years prior.
RALEIGH, NORTH CAROLINA
Raleigh ranks among the top U.S. cities for startups.
In 2020, the Raleigh-adjacent municipality of Wake Forest confirmed plans to build a state-of-the-art, 200-acre mixed-use technology park. The facility and its 180,000 square feet of office capacity may help accelerate the Raleigh metro area's already-strong tech growth.
Leading Tech Careers
Raleigh NBC affiliate WRAL reports leading North Carolina tech occupations of 2020 in software development, network and systems administration, systems analysis, user support, and IT project management.
Top Tech Employers
According to CompTIA, leading technology industry employers in Raleigh include IBM, Red Hat, SAS Institute, Verizon, and Lenovo. Other major companies that hire tech and IT professionals in large numbers include Wells Fargo, Metropolitan Life Insurance, and Credit Suisse.
Recent Tech Growth
Since 2015, North Carolina State University students have launched more than 170 startups to draw a combined $1.7 billion in venture capital. This funding jump-started a strong growth cycle, which continues with the construction of Wake Forest's cutting-edge new technology park.
DENVER, COLORADO
With its scenic location in the Rocky Mountains, Denver has always appealed to people who enjoy the outdoors. Denver Startup Week's entrepreneurship and innovation showcase has become a major annual draw.
Leading Tech Careers
Denver features employment opportunities in software development, information security, systems engineering, data science, and systems and network administration.
Top Tech Employers
In addition to a burgeoning startup and entrepreneurial ecosystem, Denver hosts major IT and tech employers. Beyond Facebook, Google, and Amazon, tech companies such as CACI, Accenture, and Arrow Electronics hire computer science professionals.
Opportunities extend beyond the tech industry. Government contractors like Lockheed Martin and Raytheon consistently hire people in Denver with computer science backgrounds. Telecom firms, including CenturyLink and Comcast, also require savvy tech professionals.
Recent Tech Growth
The Denver Tech Center helped put the Mile High City on the industry map in the 1970s. Denver's modern tech boom reached new heights in 2018 when Facebook opened new offices near the city's Union Station. Amazon and Google also established and expanded their Denver presence during the 2010s, with Amazon investing a reported $2.8 billion in Colorado.
In August 2020, software analytics giant Palantir confirmed plans to relocate its headquarters from Silicon Valley to Denver. The move increased speculation that other major California-based tech firms could soon follow suit, with Denver ranking among the leading candidates to absorb many major relocations.
HUNTSVILLE, ALABAMA
Situated in northern Alabama, Huntsville's booming technology industry has diversified in recent years. Local economic development initiatives have driven strong growth in entrepreneurship, incubation, and research and development activity.
Huntsville's standing as an excellent destination for tech professionals was a well-kept secret for many years. It now ranks among the best cities for IT jobs in the American South.
Leading Tech Careers
Citing ZipRecruiter, CBS News lists software engineering, systems engineering, and tech support specializations among Huntsville's most common tech occupations. Given the high local rate of military activity, cybersecurity professionals also benefit from strong demand.
Top Tech Employers
CompTIA lists SAIC, COLSA Corporation, and Modern Technology Solutions among Huntsville's leading tech companies. Government contractors and firms with military-industrial ties also employ many tech workers, including Northrop Grumman, Leidos/Dynetics, Raytheon, and Lockheed Martin.
Recent Tech Growth
Diversification has driven Huntsville's recent growth into one of the nation's top tech cities. The city's tech economy began to grow beyond its traditional military-industrial concentration during the 2010s. This growth fueled a construction boom that revitalized the city's downtown area, attracting further investment and perpetuating a strong growth cycle.
CompTIA projects that IT employment in the Huntsville metro area will grow by 8% from 2020-2025. With nearly one-quarter of the city already working in tech, this expansion could deliver thousands of new well-paid positions.
ATLANTA, GEORGIA
Tech industry insiders have crowned the Atlanta-Sandy Springs-Roswell metro area as the "Silicon Valley of the South." This young, dynamic city has long functioned as a major regional economic and corporate center, with major companies like Coca-Cola, Home Depot, Delta Air Lines, and UPS calling Atlanta home.
More recently, the Atlanta Tech Village has emerged as a major driver of its innovation economy. Analysts believe the city could soon join the uppermost ranks of the world's best cities for tech jobs.
Leading Tech Careers
CompTIA's 2020 Tech Town Index singles out software development, financial technology, blockchain technology, and health technology as leading computer science and IT sectors in the Atlanta metro area.
Top Tech Employers
CompTIA identifies IBM, Accenture, Amazon, Cox Communications, and Verizon among the state's top employers. Outside of tech, the list includes Deloitte, Anthem Blue Cross, Home Depot, and the Georgia Institute of Technology.
Recent Tech Growth
Atlanta's emergence as one of the best cities for tech jobs has been a long time in the making. The city's profile as a leading regional center of corporate enterprise played a key role, as big businesses hired many tech professionals to digitize operations. Analysts also cite the growth of the Atlanta Tech Village as a critically important catalyst.
Founded in 2012, the Atlanta Tech Village provides support to innovators, entrepreneurs, and startups. Its goal of creating 10,000 new tech jobs in Atlanta appears within reach. CompTIA's 2020 Tech Town Index credited the organization with 6,500 new jobs across more than 300 startup ventures. The village has also drawn over $826 million in capital investment.
Comments:(0)