Bernard Marr, Forbes
1192 Times
838 People
The lack of skilled IT workers is hurting the deployment of emerging technology, according to a new survey from Gartner. In areas from cloud to cybersecurity, this crisis is expected to last for years to come.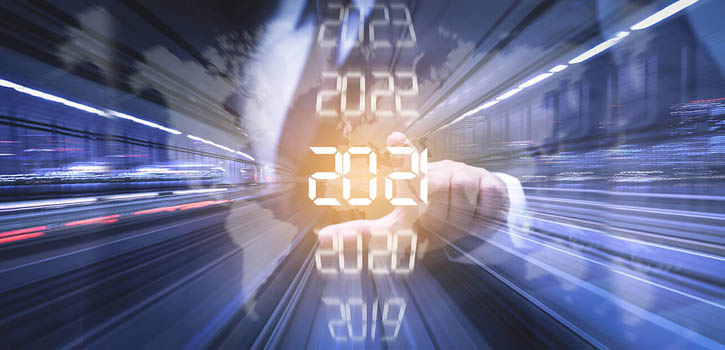 Another thing that is clear is that today's most important tech trends will play a big part in helping us cope with and adapt to the many challenges facing us. From the shift to working from home to new rules about how we meet and interact in public spaces, tech trends will be the driving force in managing the change.
In many ways, Covid-19 will act as a catalyst for a whole host of changes that were already on the cards anyway, thanks to our increasingly online and digital lives.
Here's an overview of how the major tech trends are likely to play out during 2021.
1. Artificial Intelligence (AI)
AI is undoubtedly one of the biggest tech trends and during 2021 it will become an even more valuable tool for helping us to interpret and understand the world around us.
The volume of data we are collecting on healthcare, infection rates, and the success of measures we take to prevent the spread of infection will continue to increase. This means that machine learning algorithms will become better informed and increasingly sophisticated in the solutions they uncover for us.
They will help us predict demand for services from hospitals and other healthcare providers, and allow administrators to make better decisions about when and where to deploy resources.
For business, the challenge will be to understand the changing patterns of customer behavior. More human activity will take place online – from shopping and socializing to virtual working environments, meetings, and recruitment.
During 2021 we can expect the tools we use to analyze these behavioral shifts to become more sophisticated and increasingly fit the budget and infrastructure requirements of more and more organizations.
2. Robotics, Drones, and Vehicle Automation
As the volume of passengers using public transport fluctuates from week to week, depending on local conditions, initiatives around self-driving vehicles will continue at an increasing pace.
Driving efficiency across public transport networks will be a priority for service providers as well as civic authorities, where reducing human labor costs will help balance the uncertainty around customer demand.
In recent years we have seen the emergence of robots in the care and assisted living sectors, and these will become increasingly important, particularly when it comes to interacting with members of society who are most vulnerable to infection, such as the elderly. Additionally, companies finding themselves with premises that, while empty, still require maintenance and upkeep, will turn to robotics providers for services such as cleaning and security. This activity has already led to soaring stock prices for enterprises involved in supplying robots.
Drones will be used to deliver vital medicine and, equipped with computer vision algorithms, used to monitor footfall in public areas in order to identify places where there is an increased risk of viral transmission.
3. The As-A-Service Revolution
"As-a-service" – the provision of services that we need to live and work through cloud-based, on-demand platforms – is the key that has put the other tech trends we talk about today in reach of anybody.
It's the reason why AI and robotics are a possibility for just about any business or organization, regardless of their size or budget. Thanks to cloud offerings from companies like Google, Microsoft, Amazon, and an ever-growing horde of startups and spinoffs, innovators in all fields can deploy cutting-edge tech with little upfront investment in tools, equipment or specialized people.
As the ongoing pandemic rages around the world, we have clearly seen that companies that rely on cloud to provide scalable solutions as-a-service are prospering. Zoom is a good example.
In 2021 and beyond, this is going to become increasingly important and more possibilities will open up for everyone.
4. 5G and enhanced connectivity
Faster and more reliable internet doesn't just mean we can load webpages more quickly and spend less time waiting for videos to launch on Youtube.
Each successive advance in mobile connectivity from 3G onwards has unlocked new use cases for the internet. 5G, likewise, will open more doors in terms of what is possible.
5G means that services relying on advanced technologies such as augmented reality and virtual reality as well as cloud-based gaming platforms like Google's Stadia or NVidia's GeForce now become a viable proposition, anywhere at any time.
They also threaten to make cable and fiber-based networks redundant, with their need for us to be tethered to a particular location. In short, 5G and other advanced, high-speed networks make all of the other trends we discuss here available anywhere, any time.
5. Extended Reality (XR) – Virtual and Augmented Reality (VR/MR).
These terms cover technology that uses glasses or headsets to project computer-generated imagery directly into the user's field of vision. When it is superimposed over what the user is viewing in the real world, it is AR. And when it is used to place the user into an entirely computer-generated environment, it is VR.
During this year we can again expect to see these, in conjunction with the other trends discussed here, assisting in tackling challenges posed by the current world situation.
Largely this will involve allowing us to avoid potentially dangerous situations where there could be a risk of viral transmission. For example, medical examinations and diagnosis can increasingly be carried out remotely.
A solution available to opticians allows eye tests to be carried out entirely in VR, as high-definition cameras give a clear image of the patient's eye. An AR tool then allows the customer to browse the range of glasses on offer and see what they look like on their own face without having to leave their home.
We will also see an increase in the use of VR and AR tools within education. This will reduce the need for us to work in crowded classroom conditions – if not totally, then at least in areas and during times when it is known that transmission rates are high.
CDP Explosion
We have already seen an explosion of Customer Data Platforms (CDP) in the last few months — and with good reason. Fragmented data from multiple sources can be notoriously difficult to organize, which obviously isn't ideal for companies that rely on timely, well-curated data to operate optimally.
IBM estimates that co-called "bad data" already costs U.S. businesses roughly $3 trillion annually, so addressing this challenge has become a priority for organizations of all sizes.
CDPs help solve this problem by collecting data from all available sources, organizing it, tagging it, and making it usable for anyone who needs access to it.
Companies like Adobe, SAP, Oracle, Treasure Data and Microsoft are already heavily invested in providing the market with powerful new CDPs.
Headless Tech Disrupts Industries, Reshapes Commerce
It sounds scary, but all "headless tech" means is that businesses are now able to separate their front-end presentation layer from their back-end data functionality to create custom shopping experiences. This can be as simple as telling your Amazon Alexa to replenish your favorite coffee or being able to make instant purchases off of social media.
So, why is that so important?
In short, people are doing a lot more of this type of commerce. Research shows that 86% of businesses say their customer acquisition costs have increased in the last 24 months.
This means two things:
The first is that organizations need to maximize the ROI of their net new customer acquisition costs.
The second is that it is more important than ever to also focus on customer development and retention.
By moving beyond the Omni channel experience to connect everything from warehouses to storefronts to online services, companies 2021 could become more efficient, more streamlined, and possibly get a leg up on competitors if they adopt it a little faster than they do.
Device Form Factors Become Interesting Again
Remember the flip phone? It is making a comeback. With a new focus on being always connected, customers want devices that are lighter, smaller, more connected than before, but also versatile.
Instead of carrying several devices, users are increasingly interested in hybrid devices that can double as phones or as tablets, and can fold and unfold depending on their needs.
2021 will see the return of folding smart phones, only these will be able to provide the same high quality and connectivity as non-folding phones. Aside from fitting more snugly in a pocket, the idea is also to allow phone form factors to unfold into small tablets when a user needs a bigger screen, then fold back into a smaller form factor for storage or basic phone use.
Will this change all of our devices? Definitely not, but 2021 should see a lot more folding and unfolding devices challenging the flat screen status quo.
Quantum Moves to Mainstream
Quantum computing may not be on your radar yet, but we have seen unprecedented growth in this field, in great part thanks to IBM and Honeywell, among others.
Quantum computing has been at the forefront of pandemic efforts to manage the spread of the disease, as well as the development of therapeutics and possible vaccines. We will likely see more use cases in other industries as people realize the power that quantum computing has to offer: the ability to easily query, monitor, analyze, and act on data at scale, from any source at any time.
Independent of traditional computing, Quantum still has some ways to go before becoming widely adopted.
The Coronavirus epidemic has changed both the trajectory and the velocity of digital transformation, and will likely continue to do so into 2021. The trend lines and new priorities facing organizations of all sizes that we observed in 2020 will inform the focus, decisions, and technology investments that drive the list of digital transformation strategies that will define 2021, and hopefully the recovery from the Coronavirus pandemic.
Comments:(0)