ITJobCafe
1000 Times
674 People
The lack of skilled IT workers is hurting the deployment of emerging technology, according to a new survey from Gartner. In areas from cloud to cybersecurity, this crisis is expected to last for years to come.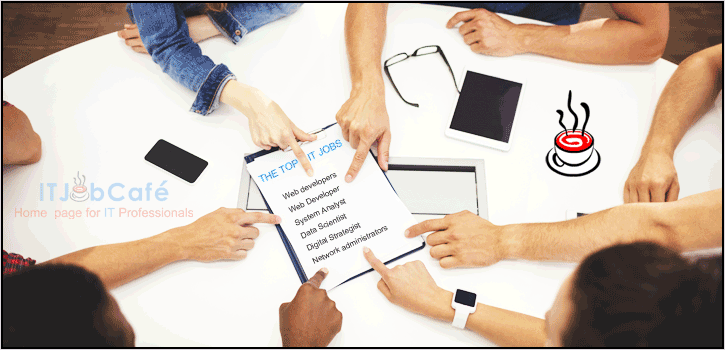 According to Modis, an IT staffing firm, there will be a 12% increase in tech employment, by the year 2024. The firm foresees an addition of 488,500 jobs by 2024.
With companies actively hiring IT professionals for the past two years, the talent war for skilled professionals has now raged again. Significant trends have been evolving across the IT recruitment landscape, especially pertaining to roles available and recruitment practices to hire for them.
Niche roles take center stage
As digital technologies are getting more and more integrated with our lives, businesses are transforming and evolving to adapt them and take advantage of the opportunities they provide. This has led to emergence of specialised roles, within the gamut of IT and demand for professionals who can assume these roles is on rise. Roles like Web Developer, System Analyst, Data Scientist, Digital Strategist and Information Security Administrator are now at the forefront of IT recruitment.
CareerCast, a job-hunting site scrutinised its database to identify the top 6 jobs that would be in demand through 2024. The site projects the demand for Web developers increased by 27%. Computer systems analysts and Information security analysts are next with 21% and 18% hike in demand. Job openings for Software engineers, Data scientists and Network administrators are expected to grow by 17%, 16% and 8%. An interesting fact to note here is that these roles mean different depending on the sector they are in. So, recruiters need to pay additional attention while translating client needs into skill requirements and selecting the most suitable candidates.
At senior levels, companies are seeing a need for Chief Digital Officers and Chief Security Officers.
Business communication skills are necessary
Till recently, a technical expert was expected to have strong technical skills and reasonable communication skills. Today, the equation between a technical expert and his clients has changed. With the pressure mounting on businesses to explore and tap opportunities provided by digital channels, the IT expert is expected to lead the client through the technology adoption. This is a continuous process. Given the changed equation, technology experts are expected to possess effective communication skills, to be able to factor into how the clients can interact with the digital channels and tap them to full potential.
Communication is also about channels used to communicate. 'Digital natives', born in an era where digital communication is the norm, can effortlessly manoeuvre through and use the digital channels. When they have to interact with Gen X or Y over traditional channels, issues may crop up. There is no reason why these digital natives cannot adapt traditional channels as well.
Be a Cyber Security expert or a Digital expert, translating and communication technology requirements to the client is in his bucket. So in 2017, communication skills would feature heavily on requirements for a technical expert.
Companies realign their recruitment strategies
IT recruitment strategies that yielded good results are now obsolete. If companies are keen on hiring graduates from a particular university or degree, they will lose the right talent to competition. It is time to realign IT recruitment strategies and hire candidates based on competence than academic background. Technical testing can be of great help in this direction. Also, gone are the days when IT experts would sell themselves to the company. In 2017, it is the companies that have to sell their job to competent IT experts.
Comments:(0)