Chris Russell
1092 Times
721 People
The lack of skilled IT workers is hurting the deployment of emerging technology, according to a new survey from Gartner. In areas from cloud to cybersecurity, this crisis is expected to last for years to come.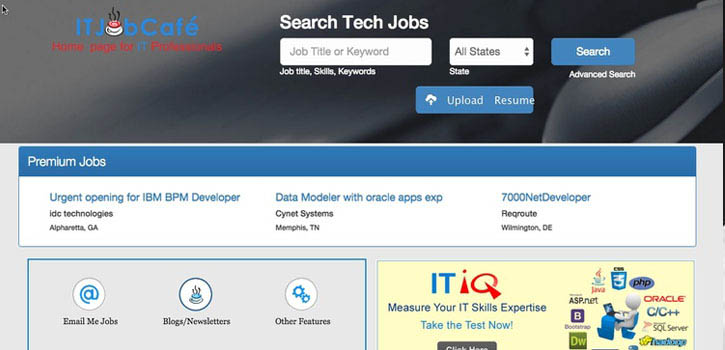 I asked Chand a few questions over email about his experience running an IT job board.
What inspired you to start the site?
At that time and even now, Portals like DICE, Monster, Careerbuilder were charging a lot of money for job posting and resume searches. We wanted to create an economical portal solution for small and medium enterprises.
How many resumes does the site have to search through?
Over 100,000 resumes and growing.
How are you different from Dice?
Subscribing employers can leverage our Job distribution network which is bigger than DICE's organic DB. We distribute your jobs to 20 sites including Indeed and SimplyHired. We also give employers access to ITIQ - our Skill assessment tool. We distribute a valuable newsletter fortnightly. We also offer skype integration.
What trends do you see happening in the IT market?
With low unemployment rate in IT, there will be a continued demand for resources/job seekers resulting in rates increase. I see more recruiters using social networkings sites as well. New technologies will continue to evolve thus creating a sustained demand for consulting into the foreseeable future.
What have you learned about IT recruiting since starting the site?
Since we started, we've seen the ups and downs of the job market. It's finally back to where it was in 2007. More employers are relying upon third party recruiters/head hunters to fill their critical needs. Job seekers are now able to gather more information about potential employers. Both recruiters and job seekers have never been more empowered than they are today.
What are the main features you offer on the site?
Distribution of your jobs to major job aggregators -

Indeed.com, Simplyhired, ZipRecruiter and Social Networking Sites.

Get Profiles matching your jobs within 10 sec.

Get unlimited resume alerts in your inbox

Profiles in ITJobCafe are mostly current and active

Search our resume database free of cost

Pay only after preview of the resume

Communicate with the Job Seeker directly through skype integrated network from ITJobCafe.

Attractive subscription packages to contact/download suitable resumes from $5

Attractive premier job subscription packages ranging from $149

Schedule tests to Job Seekers on IT Skills through a secure online test ITIQ for $10
The job board recently launched a new mobile friendly design. The enhanced platform will yield results for both job seekers and recruiters quickly and accurately thus saving time and money specially for hiring managers.
Another feather in the cap is the online skill assessment test – ITIQ. It is a unique service that will help assess candidate's' skill levels in their area of IT expertise prior to being hired. This offers tremendous benefits to recruiters in terms of time and hiring costs. Candidates too can determine their skill level and present the score on their resume or during an interview or take action to improve.
What strikes me most as to why employers should use ITjobcafe is the job distribution. For $149 you pay one price for multiple sites. That is a tremendous value to any recruiting budget. You'd pay hundreds more in order to do that yourself. Sounds like a bargain to me :-)
Comments:(0)