Alison DeNisco Rayome, ZDNet
1381 Times
1044 People
The lack of skilled IT workers is hurting the deployment of emerging technology, according to a new survey from Gartner. In areas from cloud to cybersecurity, this crisis is expected to last for years to come.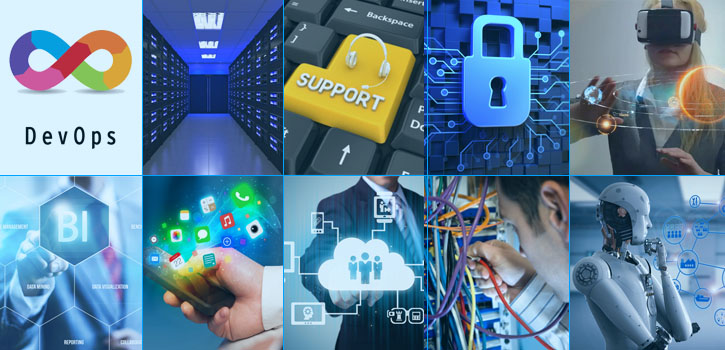 As more companies undergo digital transformation, in-demand IT roles will shift by 2020 to include positions focused on advanced technologies such as artificial intelligence (AI), augmented and virtual reality (AR and VR), and the Internet of Things (IoT).
A mix of tech and business skills will be required for nearly every position, according to CompTIA chief technology evangelist James Stanger.
"People have been talking for a long time about digital transformation of business," Stanger said. "We're going to see a lot of defined job roles either being radically redefined, or even just go away. I think an IT skillset will remain valuable, but it has to be in regards to business. Too long, those things have been kept in siloes."

1. Computer vision engineer
Demand for computer vision engineers has grown steadily since 2013, according to Indeed data. These professionals build and improve computer vision and machine learning algorithms and analytics to detect, classify, and track objects.
Investments in AR and VR are expected to grow from $11.4 billion in 2017 to $215 billion in 2021, according to IDC.

2. Machine learning engineer
Machine learning engineers are advanced programmers who develop AI machines and systems that can learn and apply knowledge. These professionals perform sophisticated programming, working with complex datasets and algorithms to train these systems.
Machine learning engineers will be in high demand as more and more companies adopt Artificial Intelligence.

3. Network analyst
Businesses are investing more heavily in their networks as IoT enters the workplace. "More and more things are going to need to be connected in an efficient way, and that's going to be a major driver of demand there," said Forrester researcher Nate Meneer.
Network analysts in the coming years will combine their technical skill set with an understanding of how to apply it to provide real-time trending information on network traffic, and what those insights means for the business, Stanger said.
"That is going to require somebody who understands more than just networking or more than just understanding of how sensors work – they are going to fully have to understand the business and they are going to have understand things like AI," Stanger said. "That's a radically different job role than today's job role of knowing how networking works or how security works."

4. Security analyst
Cybersecurity professionals are already in great demand, and that will continue into the future, as attacks grow more sophisticated and technologies to fight them advance.
The role will likely evolve to include more data skills and AI skills, Stanger said. "Security will remain very, very important, and we're seeing changes from a reactive security model to a proactive one," Stanger said. "You're going to see more of a threat-hunting, artificial intelligence-enhanced model."

5. Cloud engineer
As the vast majority of companies move important systems to the cloud, more and more are choosing a hybrid approach, with multiple vendors. In the coming years, cloud engineers will develop solutions at scale that are a mix of both in-house technology and outside systems -- going beyond Amazon engineers working on AWS or Microsoft engineers working on Azure, Mukherjee said.

6. App developer
Across both end users and vendors, app developers will be in large demand in 2020, Meneer said. "It's really the intersection of where technical capability comes to face the business need," he added.
This could be a higher level role than simply coding, according to Forrester analyst Andrew Bartels: The developer may be someone who identifies a need and designs what the code would look like, and sends it off to someone else to do the actual coding.

7. Business intelligence (BI) analyst
BI analysts gather data from a number of sources, include internal software, competitor information, and industry trends, to develop a sense of where the company stands in the industry and how they can both grow and cut costs.
These professionals act as a counterpart to the app developers, who start from the app and take requirements in, Bartels said. The business analyst starts with the business side, and considers what the company needs in terms of apps to make the process work, he added.

8. DevOps lead
As more app developers and business analysts come on board, DevOps teams will also need to be expanded to oversee and coordinate work between those groups, Bartels said.
These professionals bring skills in development and project management that are required in many companies, even outside the context of software development, Meneer said. They may be found under different titles in the future, but the skillsets will continue to be in demand.

9. Database administrator
Database administrators will become more in-demand by 2020, particularly as companies move toward more software offerings that include AI, and the ability to create AI-powered models, Meneer said. "Having well-maintained databases is really the secret to allowing those products to work effectively," he added.

10. User support specialist
As technology becomes deeply integrated into the operations of business units, more employees will need assistance from support specialists, especially as the workforce transitions, Meneer said. "As companies go through digital transformations, suddenly they find their operations increasingly interwoven into these systems," he added. "You're going to need the professionals who can support that."
With all of these positions and new skills on the horizon, employers need to be proactive in providing training to workers, Bartels said.
"One of the things that we've seen is a fast pace of change in the skills that are required and consequently, the importance of having training mechanisms in place to be continually upskilling your workers for the new types of skills that may be coming in demand," Bartels said. "Don't assume that this problem will take care of itself. Be proactive in terms of identifying skills gaps, putting in place training to help close those gaps, making sure that you really are focused on your human resources."
For any tech position, soft skills are also key to develop, Meneer said.
"Employees who offer both technical skills and soft skills such as communication and empathy are really the workers that are in demand right now," Meneer said. "Having a really clear understanding of how the technology is leveraged to improve business processes and how that pulls into strategy are also going to be increasingly important things that shouldn't be forgotten as tech workers contemplate their careers."
Comments:(0)