ITJobCafe
922 Times
586 People
The lack of skilled IT workers is hurting the deployment of emerging technology, according to a new survey from Gartner. In areas from cloud to cybersecurity, this crisis is expected to last for years to come.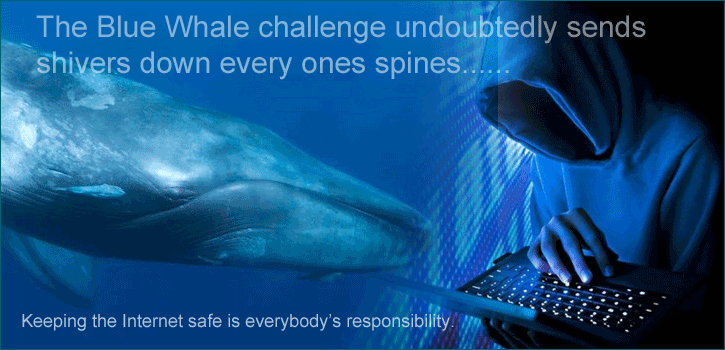 The Blue Whale challenge targets teenagers in the age group of 12-15 years, who have used certain hash tags in their social media posts or joined certain social media groups. It does not require players to have dedicated websites or mobile applications to participate in this game. Potential players convey their willingness to play the game and the curators contact them. Administrators assign a series 'tasks' to the players. The tasks can be seemingly safe ones like listening to some kind of music to ghastly ones like carving a blue whale on the hand. The 50th and final task is committing suicide.
While the news about the Blue Whale challenge has undoubtedly sent shivers down every ones spines, it has more importantly, brought to attention the role of every stakeholder in keeping the cyberspace safe.
Keeping the Internet safe is everybody's responsibility. Especially because our children are using it extensively and it is becoming increasingly unsafe for them.
Parents: The Blue Whale challenge is not first-of-its-kind. Threats similar or dissimilar have been surfacing from time to time. By monitoring the digital behavior and Internet activity of children parents can intervene and offer them necessary support at the right time. Here are some tips:
Understand the websites, apps and social platforms children use


Educate them on importance of keeping their personal information safe; teach them how to control privacy settings



Make sure they know how to block and report any malicious or inappropriate messages


Block unwanted websites using the parental control feature, of anti-virus software


Check if the school has implemented measures to prevent exposure to unwanted things on the Internet


Create the right kind of atmosphere for your children; encourage them to talk to you


Law enforcement agencies
Law enforcement agencies across countries have started taking proactive measures to curb the menace of Blue Whale and other such threats in the cyberspace. They have ordered search engines and social media service providers to take down the links to the game. Steps are being taken to improve awareness of cyber security among netizens.
Web platforms
Web platforms like Google and Facebook have a responsible role to play in safeguarding the cyberspace. The giants set an example to smaller players in terms of responding to crisis situations in the cyberspace and enforcing strict usage policies. By monitoring activities in their space, investigating suspicious entities/activities, and blocking and reporting threats, web platforms contribute further to safer Internet community.
Other stakeholders
The responsibility of netizens in keeping the cyberspace safe does not stop at staying away from malicious activities on the Internet. Reporting such activities is necessary to curb them before it is too late. More importantly, the victims of cyber bullying/threats may require some support to deal with the crisis situations. Offering them timely advice and information will save precious life.
Comments:(0)