Courtesy: Bill Snyder, InfoWorld
1919 Times
881 People
The lack of skilled IT workers is hurting the deployment of emerging technology, according to a new survey from Gartner. In areas from cloud to cybersecurity, this crisis is expected to last for years to come.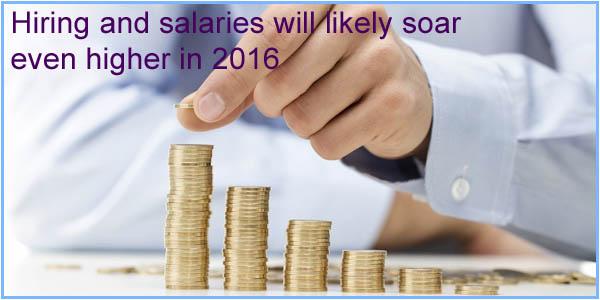 When it comes to the IT job market, 2015 was, to quote Frank Sinatra, a very good year. October was nearly the best, with the industry adding 16,300 jobs -- a burst of economic activity that bodes well for 2016.
That is, if you're in the right part of IT. Two segments were responsible for 91 percent of the new IT jobs in the year and nearly all of the gains in October, says David Foote, principal analyst at Foote Partners, in a report analyzing U.S. government statistics.
They were, to use the government's terminology, Management and Technical Consulting Services, which added 7,000 new jobs last month, the most since May, and Computer Systems Design/Related Services, which gained 9,900 jobs, higher than the monthly average for the year of 7,350.
The good news for IT jobs is not a recent phenomenon, but a continuation of a heady trend. In the last 12 months, the IT industry added 169,300 jobs; for the past 24 months, it is 293,100, according to the bureau.
"The October numbers were spectacular for IT professionals. We're 27 percent above 2014 IT job growth, and October gains beat the average of the prior nine months," says Foote, commenting on the latest report from the U.S. Bureau of Labor Statistics.
The fastest-growing skills listed on Dice, a large, IT-focused job board, over the last 12 months were those related to Microsoft Azure, Oracle PeopleSoft, Salesforce.com, big data, Hadoop, Puppet, Cassandra, CRM, NoSQL, and Atlassian Jira.
IT Salaries Rise, but women and blacks are still behind
Salaries continue to rise, with a new survey by IEEE-USA showing that midcareer IT professionals are commanding a median salary of $133,000, up from $129,000 in 2013. Data from other sources indicate that younger workers, particularly in Silicon Valley, are paid less but have seen their salaries increase faster than their more senior colleagues surveyed by IEEE.
However, the IEEE survey shows that although there has been some progress in narrowing the salary gap between men and women, and between blacks and s, the differences remain substantial. The survey of more than 10,000 IEEE members found that women IT workers earn, on average, $13,365 a year less than men, while blacks earned $15,482 less than s.
In 2013, the wage disparity for women was $3,000 greater, and $2,000 greater for blacks, so there has been some progress. Still, at that rate of change, neither group will catch up for well over a decade.
Fewer consultants hired, but more recent grads get jobs
The October spike in hiring noted by the Department of Labor appears to be accelerating. Openings posted on Dice averaged about 83,000 through the end of August. A month later there were 86,000 positions listed, and at the beginning of November the number of openings had increased to 88,000.
Foote says the accelerating job growth in the past 24 months points to continued gains for the rest of the year and into 2016. "More and more large employers are making structural changes in their IT workforces, systematically replacing consultants with full-timers, a trend that started gaining traction in 2014."
How are IT leaders paying for all these new people? One way, say Foote, is to jettison work that can be done more cheaply via services, such as via the cloud. Another way: making more college hires and developing them.
One of his large clients, says Foote, is reducing its contract workforce from about one-third of its IT staff to 10 percent, while increasing the number of new graduates it hires from about 50 a year to 400.
Companies are still rebuilding IT workforces decimated during the recession, but rather than making so-called traditional tech infrastructure jobs, they are hiring software engineers, analysts, architects, program, and project managers, as well as what Foote calls hybrid, IT-business positions.
Even information security employees are often expected to have a mix of skills that include communications, business, and even marketing, he says. They have to do more than run the security infrastructure; they need to help sell security through the organization and translate technology risk to business risk.
Software is the increasing focus, but some hardware skills still pay
It's no news that software developers and big data pros are in high demand and paid very well, but the IEEE survey shows that certain hardware skills also command a substantial premium. Engineers working on solid-state circuits reported a median annual income of $160,000, while experts in lasers and electro-optics are earning a median salary of $150,000 a year.
The highest pay listed in the IEEE's basket of 17 skills was a median salary of $161,000 for those working in consumer electronics -- a very broad heading, but still indicative of a trend.
The IEEE survey also showed that the very highest-paid people on IT staffs were those who held a law degree, with a median salary of $178,000. Other advanced degrees are amply rewarded as well.
Add it all up, and it's clear that IT employment is probably the strongest area of the entire job market. However, the still yawning gap in pay for women and blacks in the industry is disturbing and should be a front-burner issue for anyone who believes in equity.
Comments:(0)