Sharon Florentine, CIO
1160 Times
659 People
The lack of skilled IT workers is hurting the deployment of emerging technology, according to a new survey from Gartner. In areas from cloud to cybersecurity, this crisis is expected to last for years to come.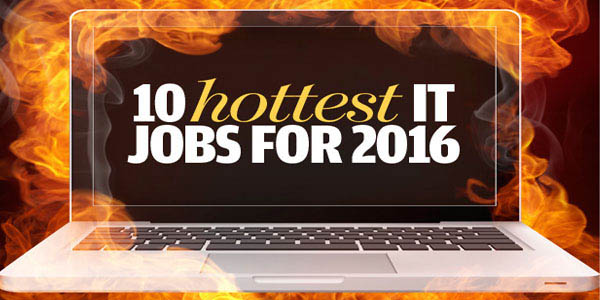 But even if you're not a security pro or a software developer, there's plenty of opportunity out there. Here are 10 hot IT skills that will be in high demand for 2016, reported by experts at IT staffing and consulting firm Mondo, freelance and contract marketplace Upwork and IT education and training company Cybrary, based on client demand.
UI/UX Designers/Developers
Consumers won't settle for anything less than a quick, seamless and painless user experience, whether they're using enterprise software, shopping or gaming. User experience and user interface (UX/UI) designers are going to be in high demand to help make software interfaces as intuitive as possible, says Anthony Gilbert, a technical recruiter at IT staffing firm Mondo.
Full-stack Web & Product Developers
Of course, a gorgeous user interface is meaningless without robust software behind it. Full-stack Web developers, especially those skilled in languages like Java, JavaScript, PHP and Python, will be in high demand in 2016 to ensure that backend software is secure and stable for users, says Robert Dickey, group president of technology and engineering for IT consulting firm Randstad Technologies.
Network Engineers
The Web, collaboration, streaming video, security - networking is the foundation on which all these technologies and skills are built. Competent networking professionals will continue to be hot in 2016 to make sure that digital businesses can continue to thrive and grow, says Mondo's Gilbert. "Our clients are still relying heavily on skilled networking professionals across all verticals to make sure they're stable, always on and secure - we don't see that going away," Gilbert says.
Security/Cybersecurity Professionals
According to a 2015 Global Cybersecurity Status report published by Information Systems Audit and Control Association (ISACA), 86 percent of the 3,436 business professionals that responded to the survey believe there is a shortage of skilled cybersecurity professionals. Compare that to the over 300,000 unfilled cybersecurity jobs in the US estimated to reach 1 million to 1.5 million by 2020, and it is safe to say we have a talent crisis. Security will remain a hot, highly in-demand skill well into 2016 and beyond.
Mobile Engineers
Though iOS and Android may soon become obsolete, it won't happen overnight, and there's still a major market for mobile application developers. 2016 should also see demand for cross-platform mobile development professionals. "If the development stack works really well across devices and across platforms, that's going to be much more critical; we're seeing greater demand for (full-stack Web development framework) MEAN: MongoDB, Ember, AngularJS and nodeJS for developing Web applications that allows for device agnosticism," says Bueno.
Business Analysts
Business analysts will play a huge role in IT hiring in 2016, as companies find they need a liaison between the IT department and the executive suite to ensure IT projects are meeting business needs and meeting strategic goals, says Mondo's Gilbert.
IT Project Managers (vertical specific)
With an increase in IT spending and freer budgets to pursue new innovation, IT project managers are going to be in demand in 2016. "Project managers are critical for our clients to see success with their IT projects. But a project manager who specializes in one industry - healthcare, for example is going to have the best chance of getting a new job in the same vertical.
Cloud Architects/Integration
With the continued shift toward public cloud infrastructure and hybrid cloud adoption, IT pros skilled at setting up, performing integration and securing cloud deployments will remain hot in 2016. "So many of our clients are looking to continue cloud adoption, but with all the high-profile security breaches, they want to make sure it's done correctly with skilled, experienced professionals," Dickey says.
Data Scientists
Companies are currently struggling to handle the overflow of data they're receiving; everything from user data, customer behavior data, purchasing data as well as sales leads, marketing data and the like, says Upwork's Bueno. Professionals who can develop solutions to capture, process, analyze and interpret data will continue to be necessary for an organization's success in 2016.
CMS
Content management systems are another hot ticket for 2016, as companies look to customize their existing WordPress and Drupal sites and integrate them with ecommerce products. WordPress has come out as the dominant platform. That means developers with customization and integration skills on that platform are going to be in great demand especially as businesses look to integrate WordPress sites with WooCommerce," says Bueno.
Comments:(0)