Heidi Moore and Patrick Kulp, Mashable
4176 Times
1814 People
The lack of skilled IT workers is hurting the deployment of emerging technology, according to a new survey from Gartner. In areas from cloud to cybersecurity, this crisis is expected to last for years to come.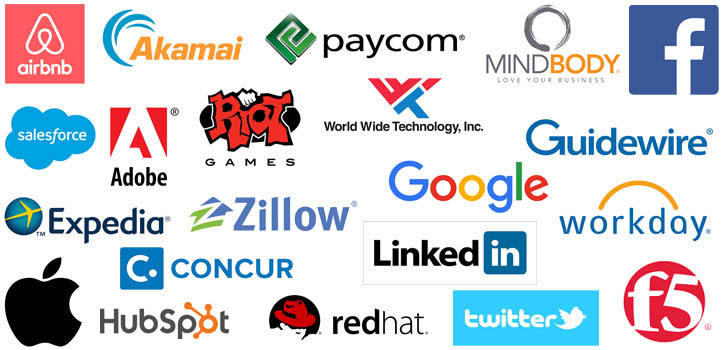 The tech industry dominated Glassdoor's annual list of the best companies to work for this year, accounting for nearly half of the top 50 spots. The ranking is based on a survey taken by employees at each company, and it's usually full of surprises.
This year's surprise: Airbnb, which has found little love among local governments or affordable housing advocates, was voted the best in America, according to its own employees. The home rental startup dethroned Google for the top spot this year, while the search giant fell all the way to number eight.
Following closely at Airbnb's heels are management consultancy Bain and Company, insurance software provider Guidewire, marketing software developer Hubspot and Facebook to round out the top five.
The ranking is a testament to the heated competition for talent in the tech sector, where companies try to outdo one another with bigger perks and benefits in order to attract and retain a relatively limited supply of skilled employees.
Here are some of the highlights of this year's list. The rankings represent their placement on Glassdoor's list.
1. Airbnb
Company Rating: 4.6
Apparently battles with local regulators and an ill-conceived ad campaign in San Francisco didn't sour Airbnb employees' opinion of their workplace. The company, which is said to be valued at more than $25 billion, offers maternity and paternity leave well above industry standards and quarterly travel vouchers among other workplace perks.
"The people that work here are some of the best I've met in my professional career," said one employee. "The culture is good. The founders are great people and I believe they have the best intentions for the company, the employees, and our community."
This year marks the first time Airbnb has appeared on the list.
3. Guidewire
Company Rating: 4.5
Business: Software
The Foster City, California-based insurance software company ranked third place overall but snagged the number two spot on the tech list.
"Guidewire hits the sweet spot between 'startup culture' and 'big corporate culture,'" said one employee based at the company's Bay Area headquarters. "There is the small company vibe, wherein you can talk to everyone and get things done. And there is enough room for flexibility in processes for individuals and teams to choose what works best for them, while having the support of the larger organization."
4. Hubspot
Company Rating: 4.4
Business: Software
The sales and marketing software company fosters employee connections through events like "mystery dinners," where it brings together an assortment of people from different departments and buys them a meal.
With programs geared specifically towards female employees and an executive slate comprised of about one quarter women, the company was also ranked one of the best workplaces for women by Fortune.
"Leadership places a heavy emphasis on employee growth across all divisions, from tuition reimbursement to offering opportunities to take on challenges outside your core responsibilities," said one employee.
5. Facebook
Company Rating: 4.4
Business: Social media
The social network stepped up its already progressive benefits this year by expanding parental leave to four months for employees worldwide — a policy which CEO Mark Zuckerberg has been taking full advantage of over the past week.
The company also offers assorted other perks to its nearly 12,000 employees, spanning everything from video game rooms to a somewhat controversial egg freezing option for women.
"The culture is really amazing and in my opinion even better than the media portrays it," said one Menlo Park employee. "The perks are wonderful, but the professional experience is even better! I feel the energy everyday working here."
6. LinkedIn
Company Rating: 4.4
Business: Social media
As a career-oriented social networking site, it makes sense that LinkedIn is well-acquainted with how to keep its workers happy. Perks like dedicated time to work on special projects, events featuring world-renowned speakers and generous professional education stipends make the company a frequent appearance on the list.
"Our culture is about transformation, integrity, collaboration, humor, and of course results," says one worker. "This culture drives everything we do and is supported by the company's core values that every employee knows and lives each day. Our values are grounded in our members who come first always."
8. Google
Company Rating: 4.3
Business: Search and diversified tech
With quirky workplace comforts like nap pods, ski gondolas repurposed as offices and diner booth meeting places, the search engine giant is famous for its strong company culture. It also offers one of the most generous parental leave policies in the country and has remained on the cutting edge of benefits accommodating LGBT employees.
"Everyone works together to achieve big and have fun while doing it. The perks are unbelievable (food, massage, gyms, discounts, etc.) but the best part is being surrounded by such amazing talent. It's truly inspiring." – Google Interaction Designer(Mountain View, CA)
10. Zillow
Company Rating: 4.3
Business: Real estate tech
After the New York Times published a scathing investigative piece on Amazon's intense work culture earlier this year, Zillow CEO Spencer Rascoff got himself in a bit of trouble for tweeting, "Amazonians — you are welcome @Zillow" with a link to the article and the hashtag "#NowHiring."
It was a brash joke, but the former investment banker says he is completely serious about building a softer workplace culture that's miles apart from the brutal Wall Street lifestyle with which he started his career.
"The views are amazing, the free food/snacks/drinks are great, and the benefits are great," a Zillow data scientist said. "I'm surrounded by smart people, and am constantly learning. Little red-tape and no business politics allow for us to immediately benefit the company and have a huge impact."
12. World Wide Technology
Company Rating: 4.3
The St. Louis-based system system integrations company manages to keep its more than 3,000 employees happy even as it continues to grow at a breakneck pace.
"Flexible Hours along with Telecommute Days. Family Environment, Fun and never bored, always work to be done! Benefits are excellent!" says one St. Louis employee.
14. MINDBODY
Company Rating: 4.2
The health-and-beauty-focused management software company has put the same wellness principles it preaches in its marketing to work for its own employees.
"It's a culture of happiness! I've never been in such a positive environment," said one employee. "Management encourages you not only professionally, but in personal aspects of life too."
16. Expedia
Company Rating: 4.1
When asked the number-one thing to keep in mind when starting a business during a recent Periscope Q&A, Expedia co-founder Rich Barton replied, "A big pond with great fisherman."
The travel listings site has put a pronounced emphasis on retaining worker talent and providing opportunities.
"The atmosphere is positive, energetic and entrepreneurial. The combination of travel and technology creates a fast-paced and exciting place to be," an employee said.
18. Riot Games
Company Rating: 4.1
Gamer culture permeates the workplace of the company behind such hit games as League of Legends.
"Riot treats all of its employees incredibly well, from top tier benefits across the board, to the state of the art campus, free gourmet lunch and dinner," a senior staffer said. "I really can't imagine a better place to work in games (or in tech around the greater LA area)."
19. Adobe
Company Rating: 4.1
The software company behind editing tools like Photoshop and InDesign landed at number 19 on the list this year.
"Outstanding company benefits—the Employee Stock Purchase Plan is second to none," said an employee. "Extremely progressive company that values employees. I truly feel needed and wanted with freedom to make decisions and have support at all levels."
25. Apple
Company Rating: 4.0
With over $202 billion in cash and no signs of slowing down anytime soon, the Cupertino company can certainly afford to be generous with its employees.
"Benefits, team is amazing, management is wonderful, constantly learning on a daily basis," one worker said. "You work with people who are as passionate about what they do as you are- who are determined and destined for great things. Vacation, stocks, health benefits, etc. are wonderful!"
26. Twitter
Company Rating: 4.0
The social network somehow cracked the top 50 despite a year of turbulence as the company ousted CEO Dick Costolo and welcomed back founder Jack Dorsey. The change was marked by hundreds of layoffs and a series of high-profile departures.
"The people that work here are amazing!" a Twitter recruiter said. "Our environment thrives on reciprocation of employees teaching and learning from each other. I am empowered to make the decisions needed to help make an impact on the company."
28. Paycom
Company Rating: 4.0
The Oklahoma-based human resources tech firm is a frequent appearance on Glassdoor's annual list. "Leaders are always encouraging us to provide constructive feedback," a recruiter said. "Catered lunches and on-site gym. Being surrounded by some of the most amazing professionals that inspire me daily."
31. Akamai
Company Rating: 4.0
Akami is the biggest name in the cloud content delivery business.
"This is the best place I've ever worked, bar none," a company designer said. "People are dauntingly smart, friendly, and helpful, the work is challenging but interesting, the benefits are very good, and the pace — while certainly subject to the occasional flurry of long hours — is remarkably life- and family-friendly."
32. Salesforce
Company Rating: 4.0
The San Francisco-based sales platform giant will be the anchor tenant of what will be the city's tallest building once it is built in 2017.
"Amazing corporate culture: work hard but have fun doing it," an employee said. "Unbelievable benefits that are constantly increasing. A meritocracy where employees are handsomely rewarded for hard work. You'll never get bored!"
33. F5 Networks
Company Rating: 4.0
The application delivery network managed to secure the 33rd spot on the list this year, down from the number-two tech spot last year.
"Great company culture, people who care about each other and get great stuff done for customers," a project manager said. "Great benefits and rewards. Company that cares about the local community."
35. Workday
Company Rating: 4.0
The cloud-based finance and HR software company knows a thing or two about good human resources.
"Great management which has a vision and direction for the company," an employee said. "Work/Life balance is excellent; the company is very family focused. If you're a high contributor, near unlimited potential for opportunities and promotions."
37. Red Hat
Company Rating: 4.0
The open-source enterprise software company landed in 37th place on the list.
"Some of the smartest people in the biz. Folks have the highest respect for technical and field resources. A family-like culture."
49. Concur
Company Rating: 3.9
The travel management software company just barely cracked the top 50. "The people and culture at Concur are phenomenal," one worker said. "They hire great people and it shows. They are great at rewarding the Sales Team and they always are providing fun incentives."
Comments:(0)