ITJobCafe
2072 Times
1328 People
The lack of skilled IT workers is hurting the deployment of emerging technology, according to a new survey from Gartner. In areas from cloud to cybersecurity, this crisis is expected to last for years to come.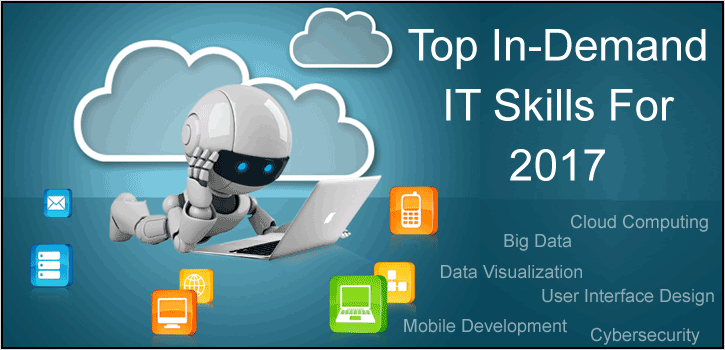 Also, a time of predictions. So what is the outlook for IT professionals in 2017? Bright surely. As is the case every year even this year the predictions for tech sector are good. Tech professionals will see some skills drop off the most in-demand list but will see others added. And this is nothing new.
What are the skills that tech job seekers need in 2017 to advance their careers? It is the right time to acquire these skills to beat competition.
Cloud Computing tops the list
Cloud and distributed computing tops the list once again and has bagged this position for the last two years. These two are clubbed together because underlying concepts are same and skills required are related. Cloud computing services market is expected to reach $127 billion by the end of 2017 predict industry analysts.
What specific skills are required?
Python, Ruby and JavaScript languages. SQL for database management and DevOps. These are skills at the cutting-edge of technology and IT professionals with these are in high demand.
Big Data
Big Data is king. As competition among companies intensifies, so does the demand for data that makes sense. Enormous amount of data is being collected but it is of no use if not analyzed to convert into information that provides significant value and insights into say online behavior of the customer and purchasing pattern, etc.
Data has been collected by companies for a long time but now the vast amount is being analyzed using tools to stay competitive in the marketplace. SAS programming and R language are skills in demand. R is very strong for pure data analysis.
Data visualization
After the vast amount of data is analyzed by data scientists, it has to be converted or presented in a form that everyone will understand. It involves creating data models using symbols, diagrams and text that can be understood by professionals and executives in the company. In text-based data, correlations, trends and patterns may not be detected as clearly as in visual context. Hence, tech professionals proficient in using data visualization software are in demand.
User interface design
As digital adoption increases across the board by people of all ages in all countries, designing a user interface that is easy to interact with gains significance while planning web applications, websites, mobile apps and all digital interfaces. As is evident, this design has to cater to different segments of users on different platforms and help them achieve their tasks with ease and efficiency. In this age of instant gratification and constant use, the interface needs to be attractive and intuitive so that minimum effort is required by users.
Today user experience and satisfaction is a top priority of all companies. Much research and analysis is required to gain insights into user behavior and design the interface. User Interface (UI) experts are in demand. Minimum skills required are graphic design and front-end web development.
Mobile development
Mobile development has been in demand for past few years and it continues to grow due to the increasing use of devices such as tablets and smartphones by everyone. Also, the need for 'on the go' access will propel the development mobile apps for Android and iOS. Companies do not see a slowdown in demand for such apps and continue to look for professionals with these skills.
Software engineers with cross-platform development ability are sought after as companies aim to launch apps on different types of platforms or devices. Other desired skills are agile methodologies and understanding of User Interface and User experience principles.
Cybersecurity
No one can doubt the importance of Cybersecurity in today's digital world. Security breaches can cause havoc in all aspects of life – political, military, business, personal finances, health and other areas. Some breaches jeopardize security of an entire country. The seriousness is evident. Robust systems are required to prevent such breaches.
Businesses need to have systems in place to protect computers, networks, and data from unauthorized access and theft of their consumers' sensitive and confidential data. Cybersecurity skills will always be in high demand.
Skills to acquire include deep knowledge of firewalls, operating systems and networks along with scripting language expertise and overall software development knowledge.
Comments:(0)