Sharon Florentine, CIO
1113 Times
642 People
The lack of skilled IT workers is hurting the deployment of emerging technology, according to a new survey from Gartner. In areas from cloud to cybersecurity, this crisis is expected to last for years to come.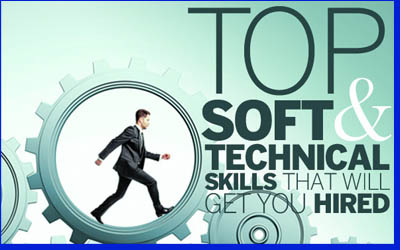 Soft skills
While these skills are crucial for any job, they can be difficult to articulate on a resume. The key, is to frame these skills as accomplishments and put them in the context of your everyday working environment. That shows your value as an employee, instead of just listing duties that anyone in your role could perform.
The National Association of Colleges and Employers (NACE) conducted a study on 260 employers and found the following five soft skills to be the most valuable in employees, in order of importance.
Teamwork
Candidates who can work well with others and demonstrate effective teamwork will always have a career edge. Those who can go beyond working in their area of expertise, and who demonstrate big picture thinking, take leadership roles when necessary and can work with colleagues for the greater good of the company are a great asset to any organization.
Decision-making
The ability to see multiple viewpoints and accurately gauge the probable outcomes of potential business decisions -- and then advocate for a particular direction -- are in great demand.
Communication
The ability to read, write and speak clearly is critical for job-seekers, even those looking for careers in STEM fields. Candidates who can articulate complex technical concepts and strategies into language an average businessperson can understand will be especially valuable.
Planning and prioritizing
Detail-oriented, innovative and creative thinkers are a major asset for global businesses who must decide how and when to devote limited resources to projects.
Research/critical thinking
Candidates aren't expected to know every answer, but they are expected to know how to look for and find the answers to complex business and technical questions.
Technical skills
While technical skills are more role- or industry-specific than soft skills, there's hard data available via a recent LinkedIn survey that shows which particular technical skills helped candidates find a job in 2014. And there's a solid consensus in the IT industry around which skills are most sought-after by employers in 2015.
Data security
Data security might not come cheaply, but bad press can be even more costly. No one wants to be the next Sony or Anthem.
"Security is top of mind for all businesses, especially as protecting proprietary information becomes more challenging," says Laura McGarrity, vice president of digital marketing strategy with Mondo, "And since employees are now encouraged to use their personal devices for work as well, monitoring company intel and handling BYOD challenges is a serious issue."
Data analysis
With big data still taking the world by storm, companies are now looking for qualified professionals who can gather, store, analyze, and/or interpret the massive amounts of data being dished out by consumers on a daily basis, according to compensation planning and benchmarking software solutions provider Payscale.
The days of companies lacking consumer data are a thing of the past -- now, the focus will be on what to do with all that information, how to extract the useful tidbits, and how to translate it into actionable objectives. "Data is now embedded everywhere -- it's critical to have people who have the skills and understanding to make sense of all of the data and create decisions and strategies from it. Data will be the driving force behind how companies utilize and strategize around these new technologies," says Mondo's McGarrity.
Development
Mobile and Web development will continue to grow as the majority of Internet users access the Web via smartphones and/or tablets. "This momentum shows no signs of slowing down as the mobile market is in demand more than ever. Developers and responsive designers will be faced with making the mobile device experience both easy to use and aesthetically pleasing to deliver a top-notch customer experience," says McGarrity.
Project management
Project management might stand out as seemingly less technical than the others on the list, but it's no less crucial. Without effective project management, security, data science and development projects are likely to stall, or organizations will struggle to maintain focus and agility in the face of shifting priorities.
Database management
Organizations no longer struggle to gather customer and partner data; the challenge now is how to effectively store, access and analyze that data to drive strategic business decisions, says Mondo's McGarrity. Talent skilled in managing business information, partner and customer data and other information stored in databases will become ever more crucial in a data-driven, digital marketplace.
Comments:(0)